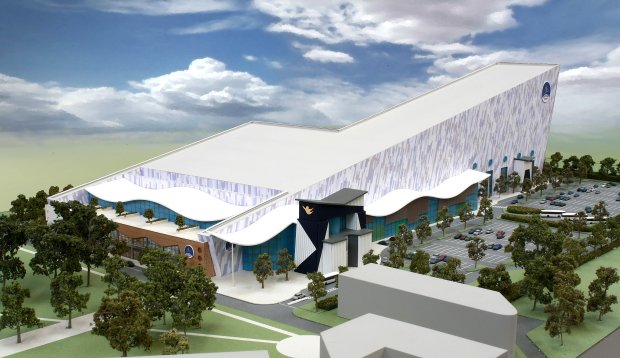 Plans for the £50m Leisuredome all-weather attraction at Weston-super-Mare have been given the green light by the Secretary of State for Communities & Local Government.
The Leisuredome will be built on a 12.7-acre site at Locking Parklands – a former RAF base being redeveloped into a £400m sustainable community by regeneration specialists St. Modwen on behalf of the Homes and Communities Agency.
It will boast a 210m ski slope, the longest in the UK, and an indoor climbing centre with a 40m climbing wall, the tallest in the world, alongside an indoor surfing centre and sky-diving facility. It is expected to attract 550,000 visitors in its first year and create more than 800 jobs.
The Leisuredome is the brainchild of directors and Bristol businessmen Mark and Clive Hamilton-Davies who, together with a team of regional businesses including law firm Clarke Willmott, construction consultants Davis Langdon, Chartwell Funding, property agents GVA, construction group Sir Robert McAlpine and Key Transport have invested a great deal of time and effort over the last three years to bring this project to life.
Tourism and heritage minister and local MP John Penrose said: "The Leisuredome will be great for visitors to Weston, and for local people too.
"Weston won't just boast its traditional beachfront with donkeys and candyfloss, but a 210-m ski slope and the tallest climbing wall in the world as well. It will put our town even more firmly on the map as a unique and fun destination to visit, a great place to live, and a brilliant location to invest and grow your business as well.
North Somerset Council leader Nigel Ashton: "I'm absolutely delighted that after all the effort we have put in to persuade the developers to bring this to North Somerset, another hurdle has been overcome. I believe it will be a fantastic facility not just for Weston but for the whole of the South West. It is yet another unique attraction for the area and is set to provide many local jobs. I look forward to work starting on site as soon as possible."
Clive Hamilton-Davies, added: "This is significant milestone for the Leisuredome team and we are absolutely delighted that permission has been granted for the development to now proceed.
"We hope that the Leisuredome will provide tremendous benefits to residents, local businesses and the wider community and look forward to working in partnership with the local community to make Leisuredome a great success."
The Planning, Development and Regeneration team at Bristol property adviser GVA has been working closely with Leisuredome (UK) Ltd, St. Modwen, HCA and North Somerset Council on the successful planning application for the Leisuredome development at Locking Parklands. GVA has also provided consultancy and site acquisition advice to Leisuredome (UK).
Construction of the Leisuredome is expected to start towards the end of this year and finish in 2013.