Bristol's Oscar winners Wallace & Gromit will be back in their home city today in their latest starring roles – helping boost UK tourism.
The Plasticine pair have been signed up by tourist board VisitEngland to front a new campaign to encourage Britons to holiday in their own country this summer.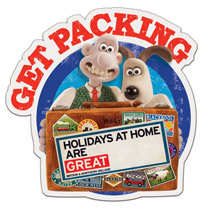 The Aardman Animation favourites are touring the UK themselves ahead of the launch of a TV advert on May 12 which shows them enjoying their own 'staycation' in their trusted motorbike and sidecar.
While in Bristol the Wrong Trousers stars will visit the SS Great Britain and, from 1.30pm, will be at The Galleries in Broadmead.
Their visit coincides with the 'Gromit Unleashed' competition which aims to give the hapless hound a new look with 70 uniquely decorated Gromit sculptures placed around Bristol during July.
The winner will be the design that best represents Bristol.
An eclectic line-up of artists who have already added their mark to the statues including iconic British designers Celia Birtwell and Cath Kidston, Richard Williams, the animation director on the film 'Who Framed Roger Rabbit' and Aardman co-founder Peter Lord.
Wallace & Gromit creator Nick Park is also closely involved with the project and will also be designing one of the sculptures on the trail.
Nick said: "I can't wait to see how Gromit will look decorated by so many different artists. I love the concept of these art trails and to have 'Gromit at large' is slightly scary in a nice way for me, but also an incredible honour."
Gromit Unleashed follows on the heels of previously public art trails in Bristol including the highly-successful Wow! Gorillas.
VisitEngland chief executive James Berresford said: "Gromit will be out in force in Bristol this summer when around 70 statues of him, each bearing a different design, will form an art trail through a city already renowned for its culture.
"Today's visit will be a chance for him to enjoy the city beforehand and perhaps check out some other art, whether that's the work of Bristol's famous son, Banksy, or the city's first festival of stone, which brings together emerging and established sculptors, masons and artists from around the country."
The TV campaign forms part of 'Holidays at Home are GREAT', a pan-UK Government-funded strategy which launched last year. Designed to boost domestic tourism, the campaign aims to attract £80m in additional tourism spending and more than a million overnight stays.
Last month Wallace and Gromit were drafted in by the VisitEngland to whittle down a list of more than 500 attractions to create the top 101 things to do in England. This has now been turned into an app, persuading travellers to holiday at home rather than venturing abroad. Attractions in both Bristol and Bath made it to the final cut.
All funds from 'Gromit Unleashed' will go towards the charity Wallace & Gromit's Grand Appeal to support the expansion of Bristol Children's Hospital. The Grand Appeal has pledged to raise an initial £3.5m for state-of-the-art equipment, family facilities and child-friendly artwork to enhance the £30 million investment by the NHS.