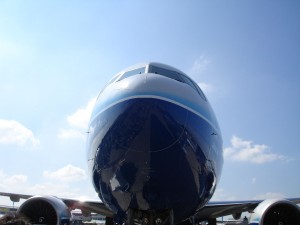 Business and Enterprise minister Mark Prisk has met his counterparts from France, Germany and Spain at the Paris Air Show to pitch for a bigger UK role in the next generation single-aisle airliner, the fuel-efficient Airbus A320neo.
Mr Prisk has also met representatives from Boeing to discuss the expansion of US industry in Britain. He said: "I'm keen to make sure we push the case. What we're looking at is a number of programmes under the next generation single-aisle option".
The market for narrow body aircraft is the industry's single biggest – worth almost as much as the rest of the market put together. Mr Prisk said: "I'm keen to make sure we push the case. What we're looking at is a number of programmes under the next generation single-aisle option. We'll be discussing share and what the opportunities are."
Airbus's Filton plant in Bristol has played a key role in developing the re-shaped wings for the A320neo. Airbus parent group EADS and GKN Aerospace, which bought Airbus's wing manufacturing operations at Filton three years ago, recently received a £1.96m investment from the Department for Business, Innovation and Skills (BIS) Regional Growth Fund grant to support a pioneering project at Filton that aims to industrialise a revolutionary manufacturing process known as Additive Layer Manufacturing (ALM).
The project is based in a new shared facility based near the existing EADS Innovation Works and GKN Aerospace manufacturing facilities at Filton, close to Airbus's giant engineering base. As well as creating up to 30 engineering jobs it will develop a new supply chain of companies which will secure further jobs in the South West and beyond.
Mr Prisk recently visited the project and praised it as an example of the UK's aerospace innovation.
Airbus, which has a workforce of 4,000 at Filton, won a further 60 orders for the narrow-body A320neo yesterday from the commercial aircraft leasing and financing arm of General Electric and for 30 from Scandinavian airline SAS, totalling $7.7bn at list prices. Air Lease Corp also signed a memorandum of understanding for 36 A320neo-family planes and Qatar Airways also said it hoped to conclude a deal this week to buy A320neo planes.
In all, the European planemaker notched up orders worth £8.9bn ($14.4bn) outselling US rival Boeing's £5.8bn ($9.3bn). Highlights of first day sales, which also saw the end to a sales drought for Canadian planemaker Bombardier and significant orders for engine maker Rolls-Royce, include:
| | | | |
| --- | --- | --- | --- |
| Maker | Client | Order | Value |
| Boeing | Qatar Airways | Six 777s | $1.7bn |
| | Two unnamed clients | 17 747-8 superjumbos | $5.4bn |
| Airbus | GE Capital Aviation Services | 60 A320neos | $5.1bn |
| | Saudi Arabia Airlines | Four A330-300s | $890m |
| Bombardier | Unnamed | 10 CS100s | $616m |
| Embraer | Various | 39 Embraer 190s | $1.7bn |
| Rolls Royce | Tam | Engines for 27 Airbus A350 XWBs | $2.2bn |
Airbus has dominated orders for single-aisle planes and is now well within reach of achieving its ambition of selling more than 500 of the latest member of its best-selling A320 family by the end of the air show as Boeing continues to delay a decision on whether to upgrade its rival 737 airliner or develop a completely new version.
Certainly it was not all bad news for Boeing yesterday. Its more expensive long-haul planes, including the latest – and biggest version of its iconic 747 – comfortably outsold Airbus.
There is general agreement that demand for aircraft is on a sharp rebound driven by rapidly growing demand from Asia and the Middle East – and the anticipated need to upgrade hundreds of airliners nearing the end of their lives in the domestic US marketplace.
Asia and the Middle East will enjoy at least one-third if not more of the demand increase for global air traffic in the next decade, Philip Toy, a managing director at Alix Partners told Reuters.
The news agency also reported that Airbus sales chief John Leahy expects to sell more planes this year than in 2010, though he declined to give an estimated figure.
"We are working a lot and it looks like it's coming together to be a very big show," Leahy told reporters.
Meanwhile planemakers from Russia and China will raise their profile as potential rivals to Airbus and Boeing today with some analysts expecting surprise sales as Russian Prime Minister Vladimir Putin visits the show.
Elsewhere Brazilian group Embraer also made its presence felt, saying it had won orders for its 190 regional jets.
It was another pointer to the fact that the end of an era of world dominance for Airbus and Boeing in the commercial aviation market. The admission came from Jim Albaugh, head of Boeing's civil jet division, who said Brazilian, Chinese, Canadian and Russian companies are all set to enter the 100-seater- plus market with jets of their own in the next five years.
Airbus chief executive Tom Enders agreed but said the newcomers were not targeting the entire product range of either of the two dominant groups
Indeed, Embraer is reported to be reconsidering developing a 150-seater airliner because the market is getting to crowded. The Brazilian manufacturer's Paulo Cesar de Souza e Silva said: "It is becoming crowded in that segment so we have to be careful and analyse that," he said, referring to plans by Canada's Bomardier, China's Comac and Russia's Irkut to move into the 100 to 200-seat marketplace.