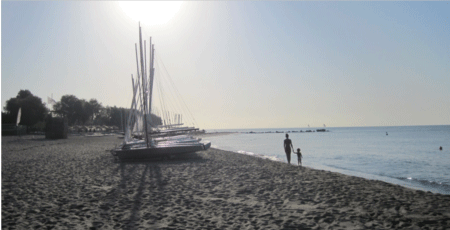 Love being active and have a few days holiday going spare? Grab that sports kit and prepare to snap up a fabulous last-minute bargain! Travel editor ANNE GORRINGE reveals the latest offers at a top sailing destination…
A beautiful sandy bay, turquoise seas and a beachful of boats, rigged up and ready for you to take. What could be better? Well, it all depends if you've got children and, if you have, what age they are. Building sand castles keeps toddlers happy but truculent teenagers need mates, and plenty to do. Most parents want chill out time on their own too, and that's why holiday companies that offer activity breaks with free childcare are such a winning formula.
Over the years I've tried a few and sampled the delights – and drawbacks – of going on holiday with kids of all ages, from four months old to age 18! But the basic truth is that, if your children are happy – it makes like a whole lot easier.
This October anyone wanting to grab a last-minute sunshine activity break can snap up one of the bargain 'last minute' deals on offer. Now that the schools are back, parents with kids locked into the exam system have no option but to try and afford the peak half-term holiday slot.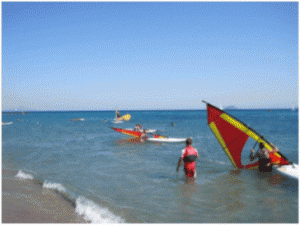 Right: Teenagers try their hand at the free windsurfing on offer in Kos
Singles, couple and even those with young children however, are onto a winner. One example is Mark Warners' first class resort on the island of Kos in Greece, where October half term breaks is currently showing at cost of over £800 a person – or £3296 for a family of four, including two teenagers.
Those free to travel on Saturday October 8, however, can pick up the SAME holiday with the same superb facilities for just £399 each. For this you'll get flights, transfers, half board accommodation, watersports and tuition, top tennis courts, free fitness and aerobics, and relaxation! Oh, and if you've got kids, there's free, day-long childcare thrown in too – almost cheaper than staying at home and paying the nursery fees!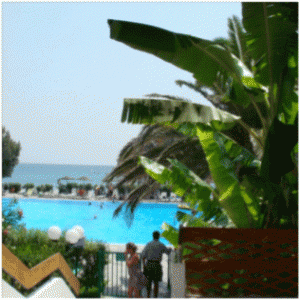 Left: The view from the restaurant across the pool
It's a popular formula. Couples, where one of you enjoys the odd swim or game of tennis, while the other is mad for windsurfing, can both be happy.
I've stayed there with my teenagers. The food, and the view from the restaurant was superb – and the rooms in the hotel building itself (included in the £399 offer) excellent. The Lakitira resort has other family accommodation in the 'village' also on site. This might work better for those with small children – but apartments there are a little more basic.
It's a large resort with lots to offer. Qualified English-speaking nannies keep kids occupied at the pool, beach and at their own children's playground complete with swings and slides. And, in the week I was there, not once did I hear one cry or complaint from the happy toddlers I spotted.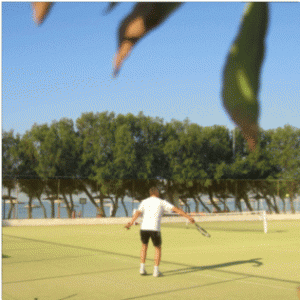 Right: Anyone for tennis? One of the courts next to the beach in Kos
Facilities include great tennis courts, two swimming pools, two beaches (one billed as 'adults only') lots of boats and a good selection of windsurfing equipment. Oh, and a perfect beach bar to sit and watch the sun go down.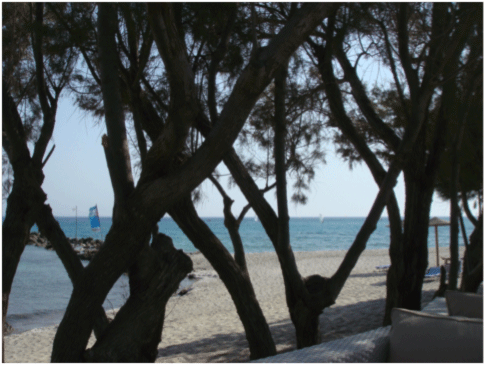 Relax at the bar on the beach after a hard day's sailing
The beach bar was where I met my teenage son each day – after he'd enjoyed a busy day in the 'Indy' Club with the rest of the 15-year-olds playing volleyball, swimming, sailing playing 'mind games' and making new mates. He had a great time but, it's horses for courses.
In truth, Lakitira's size can be a little daunting for some teenagers. Mark Warner's smaller resorts (and those away from temptations of nearby towns with an excess of under-age drinking bars) can work better for some parents.
My son and daughter had an EVEN better week at their smaller Sardinian resort earlier in the season where the 'leaders' looking after the teenage groups were simply outstanding.
I loved the cycling in Sardinia too and the exercise classes – but the wind was more reliable in Kos, making windsurfing better.
The food in Sardinia was very good, but not as good as in Kos. On the plus side, one memorable day trip excursion I took on a paid-for boat along the coast more than made up for it. The actual flight to Sardinia was better too – British Airways from Heathrow against a 5am Gatwick flight with Tor Air. A long delay on the way back from Kos didn't endear me to Tor Air either – though it meant we did get an extra half-day on the beach as Kos resort is only a short 20 minute journey from the airport, a definite plus.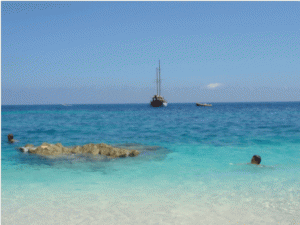 Left: I took a day-trip excursion on this boat in Sardinia along the coast and swam to this beach – the sea really is this colour!
FACT FILE:-
Mark Warner's Lakitira Resort, Kos – currently offering a £399 deal leaving October 8th for 7 days flying from Gatwick with Tor Air. Includes half-board option, free watersports and childcare.
See their website www.markwarner.co.uk for more information or call our reservations team on 0844 884 3800.
OTHER LAST MINUTE DEALS: Neilson Holidays have just released their last-minute 7-day sailing holiday deals for holidays on October 8 to the Greek island on Lemnos at the Four Star resort, Portomyrina Palace for £409 per person, saving £315 each. Price includes free kids clubs, watersports from sailing to windsurfing, waterskiing, wakeboarding & kayaking and free mountain biking & fitness classes.
See www.neilson.co.uk or call 0844 879 8155