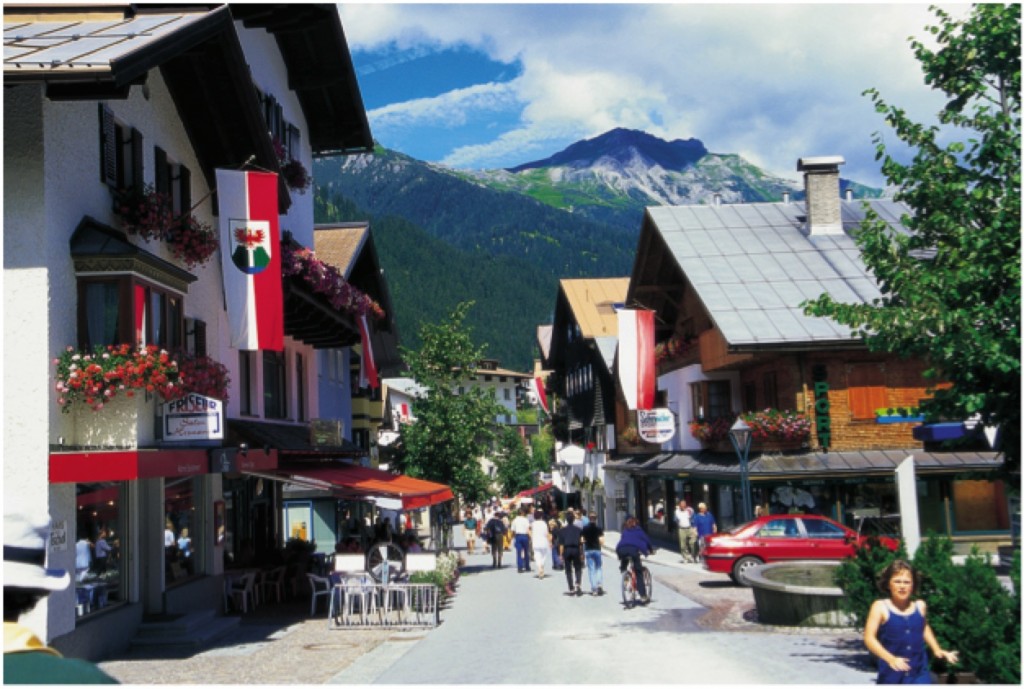 Want to be 'at one' with nature? Bristol Business News Travel Editor ANNE GORRINGE discovers what else there is to get up to in the mountains above St Anton once the ski season comes to a close…
How can letting dozens of ants crawl up your arm keep a cold a bay? Gamely, I followed instructions, patting an anthill high on the slopes of St Anton as Alpine expert Ferdl Nobl looked on.
Well, it certainly makes for an interesting introduction to natural remedies… AND it made me forget my aching legs as I ambled down the 10 km-long mountain pass.
The theory is that pressing down on the top releases a natural, eucalyptus-type chemical that (so walking guide Ferdl swears) keeps sneezes at bay.
We were up on the mountains slopes above the village which, until May 1 each year, offer a playground for skiers. From June onwards, these same passes begin to bloom with wildflowers and, as I followed Ferdl's instructions, a woody sweet scent filled the air.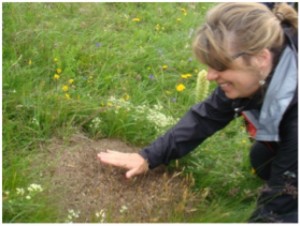 Right: Patting an Alpine anthill to ward off a cold
I was one of a group of hikers, walking a track which descended over 1,400 metres, passing Alpine meadows on the way. The bright yellow blooms, explained Ferdl, were Arnica – best picked at mid-day ready to be distilled down in a bottle of Schnapps in the sunshine on his windowsill!
Then there was the orange-coloured Cohlroschen flower that we passed which, incredibly, smelled of…dark chocolate, a purple Centaury flower whose blossom is said to be good for the skin – and Meadow Clover, which used to be used in cough medicine.
Later, he pointed out a 'deadly nightshade' plant, which I thought was pretty, but was quickly warned NOT to touch.
On the way our path passed by the wooden hut that marks the start of the men's downhill ski run in the winter months! Ferdl knew it well as each winter he works as a top skiing instructor. It's a job that has taken him around the world where his clients have included a smattering of celebrities, including Barbra Streisand.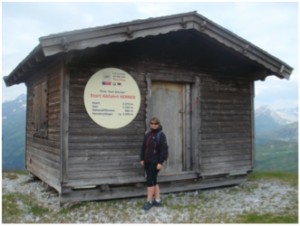 Left: Anne on the hike walking the downhill men's ski run above St Anton
In St Anton, one of his regular customers is an 80-year-old (!!) local millionairess who likes him to accompany her heli-skiing!
Eighty and still powder skiing? "Yes, and she's better than the 50-year-olds," he assures me. There's clearly something to be learned from the locals here, so I was keen to hear health tips, and patting the anthill was just one!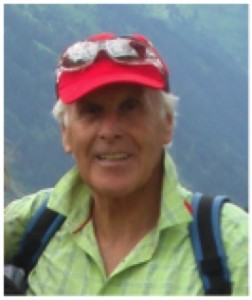 Left: Go on a guided walk with Ferdl, or one of his team to discover more about the mountains
Our three-and-a-half hour walk had begun with a cable car trip from the village to the top of the mountain where we spent the morning gradually making our way down to the Sennhut family cafe. At this welcome lunch stop we wandered through an interesting herb garden where you can buy samples of some of the plants.
St Anton is still largely undiscovered as a summer destination but if you like beautiful countryside and love being active, there's plenty to do.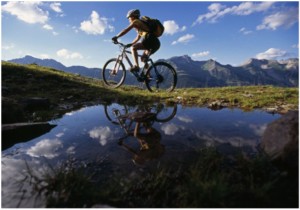 Right: Cycling on a trail in the mountains above St Anton
Mountain-bikers have more than 200km of marked cycle trails in the area to choose from. I travelled with tour operator Inghams who offer free bike hire as part of their package as well as direct flights from Bristol.
If water sports are more your thing, you can opt for rafting in the Rosanna River or the Kayak School Arlberg offers guided tours, expeditions and kayak hire for everyone from beginners upwards.
I opted for a 'tubing' trip instead – one of the latest sports to hit St Anton. This involves donning head-to-toe wetsuit gear to sit in a giant tyre (tube) and steering your way down a crystal-clear mountain stream. Following your instructor, you pass through beautiful countryside as you battle with the current past rocky outcrops. Great fun!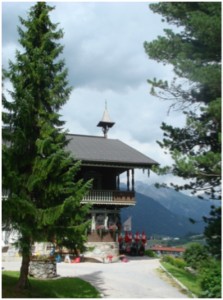 Left: FILM STAR – The Ski Museum in St Anton – made famous as the chalet used in this year's comedy movie, Chalet Girls
Back on the mountain our walk finished with a lovely stroll along a riverside path, which meanders out to end at the village's wonderful Ski Museum. This pretty (and pretty big!) building was actually the very recognisable chalet which had a starring role in the 2011 British comedy, 'Chalet Girls' starring Felicity Jones and Bill Nighy.
In fact, links with the British go back a long way here. It's rumoured that it was actually British travellers who introduced skiing to St Anton in the early 1900's, having seen this strange new sport in action in other parts of the Alps.
A new train line was built, bringing English travellers and their 'wooden snow planks' and locals were quick to see the potential. By 1907 they'd fallen in love with the winter sport, formed what is said to be the oldest ski club in the world, and began offering ski instruction to tourists.
Since then, they've kept ahead of the field and pride themselves on being – if not the first – the innovators of ski techniques. Experts, such as Ferdl have kept up the tradition and, in the winter, St Anton becomes party central for the ski crowd.
Summer attractions include the 'spa' breaks and treatments which began back to the 1800's when Victorians travelled to the area for relaxation and the fabulous, fresh Alpine air.
The Brits have been keen visitors to the area ever since and today travel is made much easier by the efficient railway system which links the area to Innsbruck, the cultural capital of the Alps, and the nearest airport.
Just two hours down the track, Innsbruck makes a great day trip. The city is surprisingly compact and has a fascinating medieval Old Town filled with interesting museums and buildings.
One of the key attractions is the Hofkirche, home of Emperor Maximillian I, where his gigantic black marble tomb is surrounded by 28 larger than life bronze statues of his ancestors. He died in 1519 and is also responsible for the city's most famous landmark, the Golden Roof, which is actually now a museum with a glittering roof, made from 2,657 copper tiles.
If you love architecture, watch out for the Ski ramp in the centre of Innsbruck and the train station, both designed by Zaha Hadid. She's the architect behind London's Aquatics Centre in the Olympic Park, the venue for this year's Olympic Games.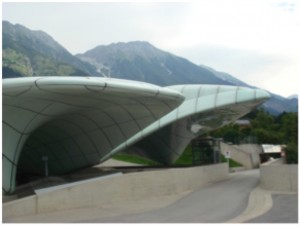 Right: Entrance to one of the train stations on the hillside above Innsbruck
Back in St Anton I decided it was time to relax and checked out the indoor pool, sauna and steam room in my hotel, the 4* Hotel Alberg.
Er… a word of caution here, the mountainside isn't the only place – where going into some saunas really CAN mean getting back to nature, as the true Austrian way is to go 'au natural'.
Sorry, but I'm British, and a stiff upper lip is the only thing I want to see in the sauna. When it comes to it, I'll be keeping my swimming costume on …
FACT BOX
Where to stay:
Anne travelled with Inghams on an inclusive holiday, staying at the 4* Hotel Alberg in St Anton (see www.stantonamarlberg.com) for seven nights on a half board basis. Prices start at £629 per person and include free daily lunch packs, a free bottle of wine on arrival, free bike hire and return flights from Bristol from May to September plus resort transfers. For more information visit or www.inghams.co.uk or contact 0208 780 4454.
Inghams summer European Lakes and Mountains schedule travels to 20 resorts in Austria and Italy. These include the mountain destinations of Kitzbuhel, Obergurgl and Seefeld in addition to St Anton. Resorts in the Italian Dolomites include the villages of La Villa and Corvara.
Their current Bristol special offers include a 7 nights, half board stay at the 3.5* Hotel Alpina in Seefeld from £379 per person, departing 9 June. Price includes free daily drinks with dinner, packed lunches and free afternoon tea and cakes. As above, For more information call 0208 780 4454.
Activities:
Go tubing in St Anton from the Arl Rock centre in the town. Checkout details at www.h2o-adventure.at
Getting around:-
St Anton
·Walkers Lift Pass – A pass for all cable cars and lifts in the St Anton area costs £29 (7 days)
·Guided walks – Join other Inghams guests on our exclusive guided walks led by local, English speaking guides. Pay just £1 per walk to secure your place.
Tourist information: