A team from Bristol-headquartered national law firm TLT has helped a leading housing association complete the acquisition of a derelict site, allowing it to build 100 much-needed affordable homes as well as job-creating retail space.
TLT advised Network Homes on all aspects of the complex acquisition of the site – a former supermarket at Burnt Oak Broadway near Edgware, North London – including expertise from the firm's real estate, tax, construction, planning and corporate teams.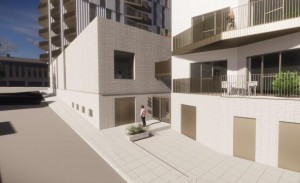 Network Homes, which owns and manages more than 20,000 homes across London, Hertfordshire and the South East, plans to develop the site as a large mixed-use scheme with 100 residential units and more than 1,700 sq m of commercial space.
All the homes will be affordable housing for rent or shared ownership.
The TLT team was led by partner Shazia Bashir, with support from partner Mark Braude, legal director Fergus Charlton and associates Andrew Russell, Jaspreet Dhillon and Luke Thorngate-Davies.
Shazia Bashir, pictured, said: "This was an exciting transaction which presented many challenges and required expertise from a range of specialists across the various teams at TLT.
"We're delighted to support Network Homes with this acquisition, which demonstrates their ongoing commitment to affordable housing. It's encouraging to see a continued investor appetite for schemes of this nature in the current climate, when demand for affordable housing is likely to increase. " 
Network Homes executive director for development David Gooch added: "This is a fantastic development which will transform a derelict site into much needed affordable homes both for rent and for shared ownership, offering people their first step on the housing ladder.
"The new commercial units will also create employment opportunities and support economic growth as we recover from the pandemic.
"We are grateful to TLT for their diligent approach and patience, and for their help overcoming a significant range of complex issues throughout the transaction.
"The team's ability to convey these complexities and offer meaningful solutions in a simple way made everything much more manageable for the Network Homes team."
Of the 100 properties, 75 apartments will be for shared ownership, which helps residents buy a home with a lower deposit, 19 for London Affordable Rent, and six for London Living Rent – a scheme that supports residents in saving for a deposit to buy their own home.
The scheme is expected to be completed by 2023.