West firms will now find it easier to follow in the footsteps of Chancellor George Osborne and head east to seek business opportunities in China.
Changes recently made in the fast-developing country – the world's second-largest economy with annual growth of 7.8% according to new figures released today – will open up the country further, paving the way for more UK businesses to set up there and share in its success.
This theme emerged from a China Masterclass held by the Bristol office of accountants Grant Thornton yesterday and coinciding with the high-profile visits by Mr Osborne and Mayor of London Boris Johnson.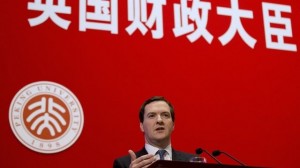 Deals worth billions of pounds have been signed by the Chancellor, pictured right, and UK Government officials during their week-long trade delegation in Beijing. The visit has also led to a deal – expected to be officially announced next week – for Chinese investment in EDF's proposed Hinkley C nuclear power plant in Somerset.
Antoaneta Becker, who runs the South West office of CBBC (China-Britain Business Council), explained how trade with China is changing from the earlier model of using the country as a low-cost centre for outsourced manufacturing.
As China's huge emerging middle class gains massive spending power and an appetite for Western consumer goods – particularly British premium brands – more UK companies are setting up their own manufacturing bases in the country to make products purely for the Chinese market.
This pent-up demand for foreign brands has driven China's leading retail website Alibaba to open up to overseas firms who can now sell products directly through the site.
Another major factor is the opening of a free trade zone in Shanghai for a three-year trial. This will make it easier for more Western to open up there.
The CBBC has helped businesses from the region do business in China since the 1950s, she said, long before the country opened up to foreign investment and now has 13 offices in the country.
David Field of Grant Thornton guided the delegates through the tax and regulatory maze of doing business in China. He explained that, while the nation had opened up and reformed its tax regime in recent years, Western companies could still encounter pitfalls.
A new treaty due to be introduced next year by the Chinese government will make it easier for UK firms to launch businesses in China without incorporating them in Hong Kong – the traditional route, he said.