The West of England's largest sustainable business event is set to break all records when it kicks off later this month with a major conference.
The Festival of Sustainable Business is expected to attract 2,000 plus delegates, according to organisers Bristol sustainable business network Future Leap – a 33% increase on last year.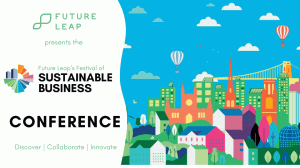 The festival is staged in three parts – a hybrid conference at The Bristol Hotel on 23 March, an exhibition on June 15 at Paintworks and an awards ceremony on 9 November at The Bristol Hotel.
The conference aims to inspire businesses to take action on the climate and ecological emergencies with topics ranging from energy and sustainable investment to retrofit, circularity and biodiversity.
High-profile speakers will include former energy minister Chris Skidmore OBE, who chaired the recent Net Zero Review, and Rebecca Nohl, formerly of the Dasgupta Review Team.
The conference will also provide a platform and space for organisations and individuals to make vital connections, enabling collaboration under a common goal – to progress sustainability.
Five seminars on the day will look into into ways businesses can act on their sustainability, ensuring education, knowledge sharing and the development of better business practices.
Organiser and Future Leap managing director Fenna Leake said: "It is important that the business community takes responsibility and acts upon these warnings.
"The Festival of Sustainable Business will showcase the experts who are leading the way towards a more sustainable future."
Mike Barry, former director of sustainable business (Plan A), Marks and Spencer, added: "Having been involved with last year's Festival of Sustainable Business, I can wholeheartedly recommend the it as the place to acquire the knowledge, contacts and tools for businesses wanting to act on the climate and ecological emergencies.
"Future Leap has built a vibrant and action-orientated community in the region and this, its biggest event of the year, is one not to be missed."
Festival sponsors include Bevan Brittan, Equans, Kensa, Latcham, lawlight, Rin Hamburgh and Co, Termex, TLT, the West of England Sustainable Technologies Scale-Up Programme and Bristol City Leap.
Limited tickets and sponsorship opportunities are still available. For more information contact Davina Gilbert at events@futureleap.co.uk