The West of England's strength in the aerospace and automotive sectors is creating strong conditions for smaller firms in their supply chains with most expecting to increase staffing and investment over the next three months.
According to the latest Manufacturing Outlook survey published today by manufacturers' organisation EEF and accountancy and business advisory firm BDO, a positive balance of 19% of the region's manufacturers plan to raise invest while a balance of plus 17% expect their order intake and employment to improve.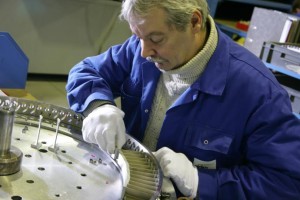 The upbeat outlook builds on strong figures during the last quarter – a positive balance of 11% manufacturers in the region reported increased output while the same figure said they had taken on more skilled workers.
The survey points to growth in the aerospace sector – Bristol is Europe's second-largest hub with 'prime' contractors such as Airbus and Rolls-Royce who spend millions of pounds every year buying parts and services from smaller firms in the supply chain. The UK automotive sector, which is also expanding, has a supply chain that extends into the region.
EEF regional director Phil Brownsord said: "Over the course of the year we have seen a definite turnaround in prospects for manufacturing and this looks set to continue into next year.
"This increased confidence is evident in companies looking to increase their headcount and, most importantly for balanced growth, step up their investment. However, uncertainties in the global economy remain and a sustained recovery is not secure. As a result, growth must remain a priority for government over the remainder of this parliament, starting with the Autumn Statement this week."
John Talbot, of BDO's Bristol office, added: "Continued strong demand within the domestic market is very encouraging and this does suggest that a sustainable manufacturing recovery has gained a foothold in the region.
"However, international markets hold the key to a fully-fledged and meaningful improvement and these markets remain frustratingly fragile. We haven't missed the boat yet, but companies need to stand ready and be supported by an accessible Government-backed export framework in order to take full advantage of the recovery on the continent and beyond."
EEF is forecasting that the positive picture from its latest survey will continue into 2014 with the sector nationally outperforming the wider economy – growing by 2.7% in 2014 compared to 2.4% for the economy overall.
The improved performance this year has also led the EEF to revise its 2013 forecast to show manufacturing contracting by just 0.1% and the economy growing overall by 1.4%