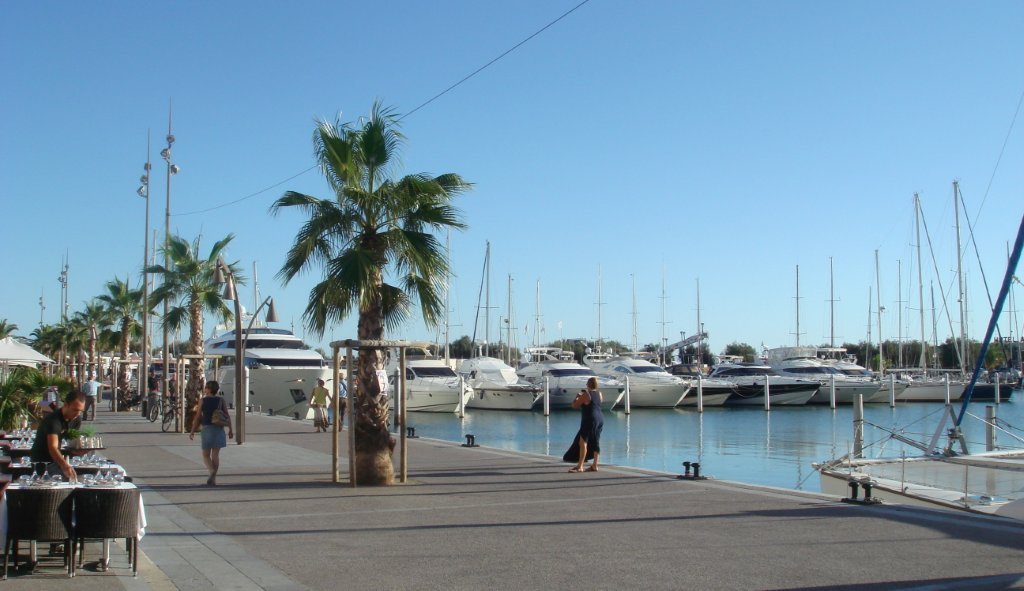 The pretty marina at La Grande Motte
Want to work out those abs but hate the gym? Travel Editor ANNE GORRINGE jumps on board for the latest water sport….
Concentrating all my efforts on keeping my balance as I paddle my way across the ripples of an azure sea, the peace is suddenly interrupted by the unmistakable sound of a phone ringing.
Calmly, my instructor produces a mobile from his swim shorts' pocket, barely breaks his stride and chats…all the while continuing to lead the way as he paddles with just one-hand.
Impressive. Only in France, I think. Cool enough to know he won't fall in – and confident enough to be able to swap his phone for his camera (again with one hand) to capture me in action on the water.
Thankfully the call had been short and didn't interrupt what turned out to be one of the most relaxing ways to exercise. Gazing across at beautiful sandy beaches as you slowly slide across the water certainly beats the gym for firming up the abs.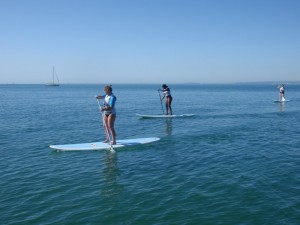 Anne tries SUP boarding on the Med at La Grande Motte – Photo: Olivier Madar
Stand Up Paddling (or SUP boarding, as it's known) originated in Polynesia and reputedly boasts a host of celebrity fans from Pierce Brosnan to Jennifer Aniston.
More importantly, as far as I was concerned, it also burns around 700 calories an hour and is great for improving balance, coordination and strength.
At La Grande Motte, a thriving beach resort in the South of France, the Montpellier women's football team are also reportedly big SUP board fans, using it as a key training exercise.
I spent a few days there, having flown into Montpellier Airport and driven the 20 minutes to the centre of the resort in the heart of the L'Herault area.
I stayed at the 3-star Hotel de la Plage, where facilities include a sea-view and private beach. It was a 10 minute walk into town and a great location for trying out a variety of sports from rowing on the nearby Etang du Ponant lagoon to jet skiing. But, surprisingly, standing on a surfboard and propelling myself through the waves was my favourite.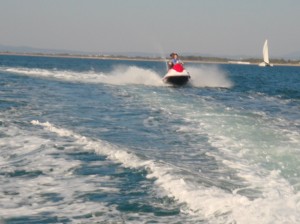 Jet-skiing made me feel like an extra in a James Bond film
In between the water sports there was plenty of time to sample the local restaurants, including Bikini Beach (La Plage des Bikinis) which, once again came with a private beach and was where we had lunch. The bar specialises in live music in the peak summer months and even brings out its own CD featuring its most popular bands.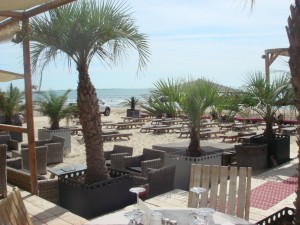 The restaurant at Bikini Beach
Thanks to a tourist office guide, who took me on a walking tour of the area, I also learned something about the fascinating architecture in this interesting resort, created on what was, basically sand, in the 1960s.
President Charles De Gaulle was one of the leading lights behind a plan to develop a series of new seaside towns to take advantage of the beautiful sea and beaches. The idea was to incorporate green spaces, pedestrians and cycle paths and accommodation for rich and poor.
Development of the town, part of whose attraction is the 14k stretch of sandy beaches on the doorstep, became an on-going project for local architect Jean Balladur, who made it his life's work.
He drew inspiration from the flat-topped pyramids of Mexico for his apartment blocks and paid homage to the president, incorporating images of his unique profile, (complete with his strong nose and peaked hat) in the design of buildings on the marina.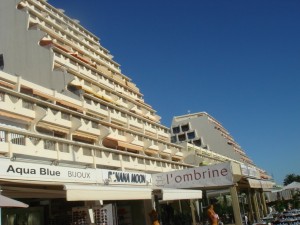 Look closely at the balconies – and you might be able to spot De Gaulle's profile in the design
He also divided the town into curved (and more feminine-shaped) buildings on the western side, with more angular (and 'masculine') designs in the east, highlighted by the sun at dawn.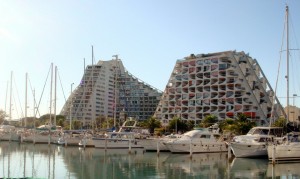 La Grande Motte marina which, with over 1,500 moorings is one of the largest in Europe
The light, of course, in this area of France is stunning. And, I'm told, that for the last few years, the sunny weather has bene more settled in the late spring and early autumn than in the peak summer months of July and August. This makes it a great location for an early season break.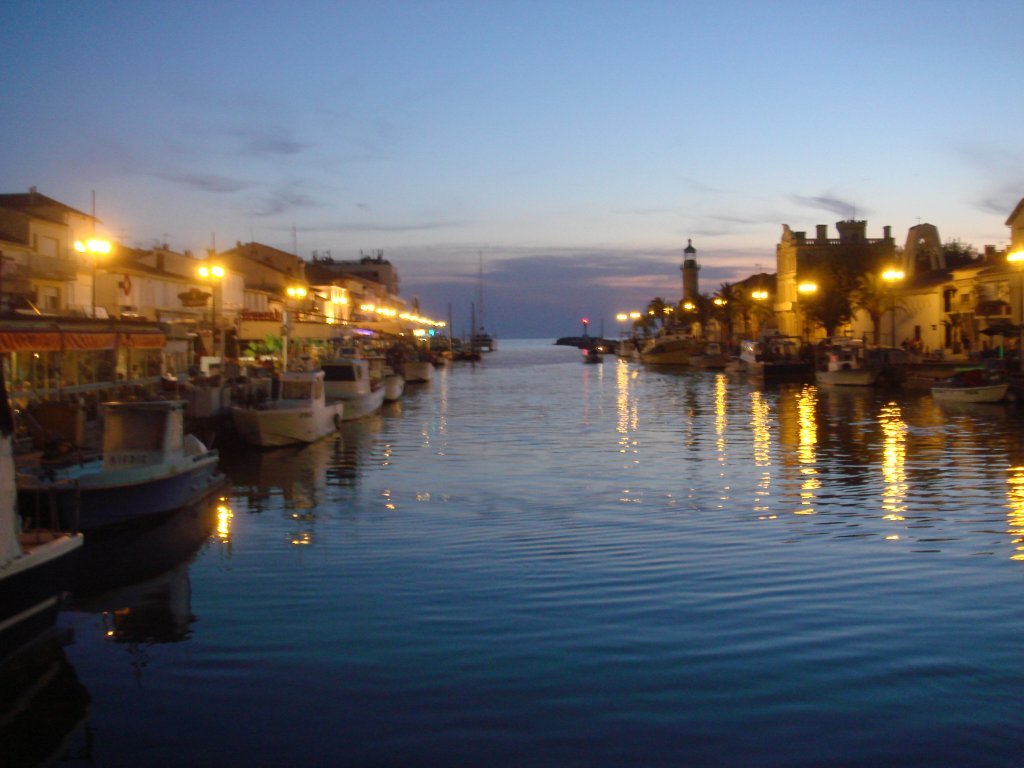 Another great place to eat – the fishing Port, Le Port de Peche. Catch the bull run here in September.
Just along the coast is the Port-Camargue in the Le Gard area where you can learn to sail, hire a yacht or just enjoy the sandy bays. I spent a night at the Mercure Thalassa hotel, set on an 18-klong beach with beautiful sunsets. Over a beer at lunchtime I was told that the hugh stretch divided into four distinct areas for families, nudists, gays and, er, swingers. All I saw on my visit was a vast expanse of deserted sand.
But, when you need a break from the beach, a short drive along the bay and past the ancient salt marshes takes you to the ancient town of Aigues Mortes, whose name literally means dead or tranquil water. The church there boasts stunning stained glass windows by artist Claude Viallat pulling in around 900,000 visitors a year.
Another attraction, much loved by the locals, are the many popular spas – perfect to sooth those aching muscles after SUP boarding and rowing!
In La Grand Motte I visited the upmarket Thalasso Spa where you can opt for a variety of treatments, most using warmed sea water. I started with a giant 'bubble bath' where I laid back to be blasted by jets of warm water massaging me from my feet to my shoulders.
More unusual was 'pressotherapy'. This involved laying on a very comfortable bed while the bottom half of my legs were sheathed in what looked like giant leg-shaped oven gloves. These contained hydrojets to stimulate blood flow and boost circulation.
Surprisingly, it was really relaxing. But I would have liked to have understood more about the process. Not unreasonably, many staff, whose second language is English found it difficult to explain the intricacies of the process. Those keen to know more about the theory behind some of the treatments should swat up on your GCSE French first – or at least remember to pack the French dictionary.
FACT BOX:-
Anne travelled with Easyjet from Gatwick to Montpellier – www.easyjet.com
She stayed at the Hotel de la Plage in La Grand Motte www.hp-lagrandemotte.fr Rooms with a sea-view cost from 124 euros per night in mid-season, including dates in May.
A double room at the Mercure Thalassa Port Camague costs from 120 euros per night www.accorhotels.com
For a relaxing lunchtime meal at 21 euros for two courses, don't miss La Plage des Bikinis at La grande-motte www.plage-des-bikinis.com
Relaxing spa. For 96 euros spend an afternoon at the spa with three treatments included www.thalasso-grandmotte.com
ACTIVITIES:-
Try Stand up Paddle boarding – SUP boarding – at the Paddle Center, La Grand Motte – on the Esplanade www.paddle-center.com from April through to the end of September.
Jet Ski at Grau du Roi – Post Camargue www.watairworld.com
To learn to sail or to hire a yacht, see www.thalassacup.fr You can hire a boat for eight people for 2,500 euros a week (with a big 3,000 euros deposit.) in the Port Camargue.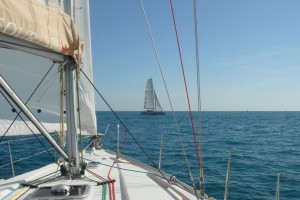 MORE INFORMATION:-
Check out the following tourism websites for the Languedoc-Roussillon region: www.sunfrance.com;
www.herault-tourisme.com
and www.gardtourism.com