The potential of hydrogen to spark a revolution in the West of England's industrial base is to be explored in a major digital event next month.
The Virtual Hydrogen Summit is the first event of its kind to be staged by The West of England Aerospace Forum (WEAF), which represents many of the region's aerospace and defence businesses.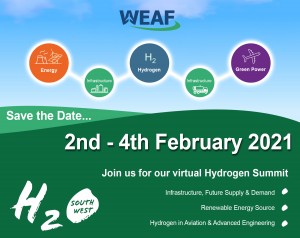 Taking place between February 2 and 4, the summit will look at the potential of hydrogen as a catalyst for the development of a new industrial ecosystem, bringing together the design, test and manufacturing expertise of the region.
Over its three days, virtual attendees will gain an overview of opportunities it may bring to the West of England's aerospace and advanced engineering supply chain.
Topics covered will include the development of the green hydrogen roadmap and stakeholders, authorities and businesses can be brought together to develop and deploy hydrogen fuel projects across the region.
The event will also cover policy, hydrogen supply, research and development, infrastructure and hydrogen demand.
The South West is the largest aerospace cluster in the UK and has one of the largest concentrations of aerospace and defence capabilities in Europe, contributing around £7bn a year to the economy.
Harnessing the potential of hydrogen could usher in new, greener forms of energy production, manufacturing and revolutionise supply chains.
WEAF CEO Colin Tuner said: "The challenges of climate change will bring opportunities for industry to develop new innovative technologies.
"WEAF's first virtual summit will concentrate on the potential use of hydrogen in future aerospace and transportation sectors.
"By attending, companies will be able to hear from experts from the field and gain knowledge of this exciting area of development."
The event will be moderated by Mr Turner and former VP of technology at GKN Paul Perera.
Day 1 of the summit will tackle the role of hydrogen in delivering net-zero industry, Day 2 will look at its likely industrial impact while Day 3 will explore how the West of England can be a key player in the hydrogen revolution, including by creating a regional hydrogen hub.
Speakers will come from major regional industrial firms such as Airbus, Rolls-Royce, Alstrom and EDF Energy, academia and business groups such as Business West, the CBI and the West of England Combined Authority.