The £70m engineering research and innovation centre putting the West of England at the heart of the global drive towards low-emission travel has been officially opened.
The Institute of Advanced Automotive Propulsion Systems (IAAPS), on the Bristol & Bath Science Park at Emersons Green, is already developing clean, sustainable and affordable technologies to support the transport industry in the transition to net zero.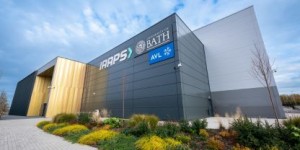 With transport accounting for around 44% of the West of England's CO2 emissions, cutting-edge research carried out in the labs at the state-of-the-art University of Bath-owned centre is seen as key to cleaning up transport – from next-generation electric vehicles to harnessing the power of hydrogen for use in buses, trucks and aircraft.
It was officially opened by West of England Metro Mayor Dan Norris and Chief Secretary to the Treasury John Glen at a ceremony attended by from industry, academia and trade organisation leaders as well as representatives from regional and national government, including Kingswood MP Chris Skidmore, chair of the government's Net Zero Review.
The 13,500 sq m building was part-funded by a £10m cash injection from the West of England Mayoral Combined Authority (WECA), which is led by Mayor Norris, pictured at the opening ceremony.
He said the centre would help make high-polluting vehicles a thing of the past – a measure vital to helping take the steps towards reaching net zero.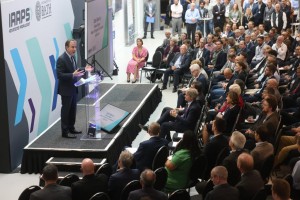 WECA has also provided more than £4m for the site's trailblazing hydrogen research work, including £2.5m for its Hydrogen Sustainable Transport Economy Accelerator project, which will produce enough green hydrogen to cut its annual emissions by 84%.
Mayor Norris, who cut a ceremonial ribbon to open the centre with Mr Glen, University of Bath vice-chancellor and president Prof Ian White and IAAPS executive director Prof Chris Brace, said: "Despite what some might say, getting to net zero still very much matters in the West of England, and this country.
"But if we are going to keep reducing our emissions at pace, we are going to need the transport sector especially to shift gear, and do more research in clean, powerful fuels like hydrogen."
He said IAAPS would "put rocket boosters" under the plans for the West of England to become a zero-emission and innovation leader.
"It's hugely important because our region is one of the most vital areas in the world for sectors like aerospace, automotive and future technologies," he added.
"It will help train up the next generation of researchers and innovators vital to help these sectors clean up and gear up for a bright, net zero future, which is absolutely vital.
"We have obviously made an important investment here – now we need to deliver. I am very excited by this prospect, and am right behind Prof Brace and his team.
"It just goes to show how much of a key player our West of England region is becoming in the fight against the climate and ecological emergencies we all face."
As a wholly owned subsidiary of the University of Bath, IAAPS builds on more than 40 years of advanced propulsion systems expertise at the university, working in collaboration with industry and academia to deliver transformational research into cleaner, smarter engines, powertrains and driver technologies.
The installation of its green hydrogen manufacturing plant – the first of its kind in the South West – along with a closed loop cryogenic helium system puts it at the forefront of new sustainable fuels while its regional Sustainable Transport Acceleration Hub is working with more than 30 cross-sector partners to stimulate green growth in the region and to provide an important link in the national hydrogen research infrastructure.