Specialist software and IT group SciSys has landed a €1.2m (£980,000) contract to work on the next generation of planetary rovers and robots for future space missions.
The group, which has an office in Bristol and whose roots are in the space industry, is to work with the European Space Agency on the Harwell Robotics and Autonomy Facility (HRAF) Pilot Project 1 to support the development, testing and validation of so-called autonomous systems technologies.
These are seen as essential for future space exploration and include vehicles and robots that can be used to explore planets. The contract, which has started immediately, includes using specialist test facilities to supplement for the technology, including mock planetary surfaces, simulated software environments and field trials.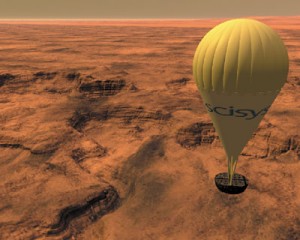 SciSys will work with major businesses such as Airbus Defence & Space, Thales Alenia Space Italy and Thales Alenia Space UK on the project.
Pictured: A SciSys visualisation of a planetary aerobot in the Martian atmosphere
SciSys divisional director space Dr Horst Wulf said: "It is great to see SciSys' reputation in autonomous systems being recognised by priming this consortium."
SciSys CEO Klaus Heidrich added: "The area of autonomous systems and robotics is currently receiving a lot of investment and with HRAF we are delighted to be at the forefront of this area. In addition to our core space business it also has the potential to create exciting opportunities in non-space domains."
SciSys employs nearly 430 staff across its sites including its head office in Chippenham and satellite offices in Brislington and Reading and three bases Germany.
It also works with public and private sector clients in the media and broadcast, government and defence sectors.
Shares in SciSys, which is listed on the London Stock Exchange, rose 1p, or 1.1%, this morning to 92.5p.