A campaign to encourage Bristol businesses to talk to each other more, make contacts and discuss business issues via social media has been launched today.
The project, called #getbristoltalking, is the brainchild of Bristol Chamber of Commerce, part of business advice and services group Business West, which believes it can boost the city's economy through connections and knowledge sharing.
Organisations already committed to backing the campaign include the West of England Local Enterprise Partnership (LEP), Destination Bristol, Bristol Junior Chamber, Bristol Media and the Festival of Ideas.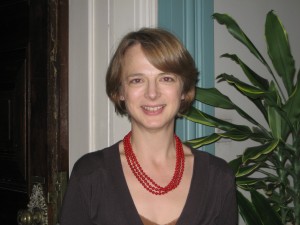 To take part, businesses can follow the twitter hashtag #getbristoltalking, join the discussion at www.getbristoltalking.co.uk, and host or attend their own #getbristoltalking event.
Chamber of Commerce manager Sarah Cooper, pictured, said: "We are very excited to be running this campaign, designed to encourage more conversations between Bristol-based businesses. #getbristoltalking is exactly what we are about – constantly connecting the local business community to collaborate and profit from sharing knowledge, goods and services.
"Our aim is for these conversations to develop and strengthen relationships that will prove financially beneficial for businesses and the city in the long term. In these difficult economic times businesses can't afford not to network. Increasing their circle of business acquaintances – potential customers, suppliers and referrers – makes perfect business sense.
"The campaign includes events hosted by Bristol Chamber of Commerce, but we are eager for other organisations to run events as well to coincide with the campaign. We will help promote all events, encouraging attendance by businesses throughout the city."
#getbristoltalking is being supported by Grayling PR and an impressive host of business people from influential organisations in the city have agreed to act as ambassadors throughout the campaign. Ambassadors will play an active role in the blog discussion during the campaign, and add the hashtag to their own tweets.
Businesses can take part by:
Following the twitter hashtag #getbristoltalking
By following the tweets and those by others using the hashtag, businesses can ensure that they are up-to-date with all the networking opportunities and events taking place throughout the campaign.
Joining the discussion at www.getbristoltalking.co.uk
Each day businesses from across the city will be invited to post their comments on a wide range of issues such as leadership and the elected mayor, exporting , sustainable energy, and the role of digital media in growing a business. They can respond, join the discussion, and be controversial. They can post their own blog topic on the site by contacting getbristoltalking@grayling.com. The website will also keep a list of all the events taking place during the campaign, helping businesses plan their networking diary
Hosting their own event or promote an existing event.
Businesses can use the hashtag to promote their own events to a wide audience. For events already planned over the next few weeks, businesses can simply add #getbristoltalking to any tweets. News of the event will be retweeted and added to the online calendar. Businesses not using Twitter can email getbristoltalking@grayling.com
Sending photos
Businesses attending events or setting up your own can submit photos. As many as possible will be published.
To get involved use the hashtag #getbristoltalking to share conversations, visit the website www.getbristoltalking.co.uk to publicise events and encourage comment and discussion.