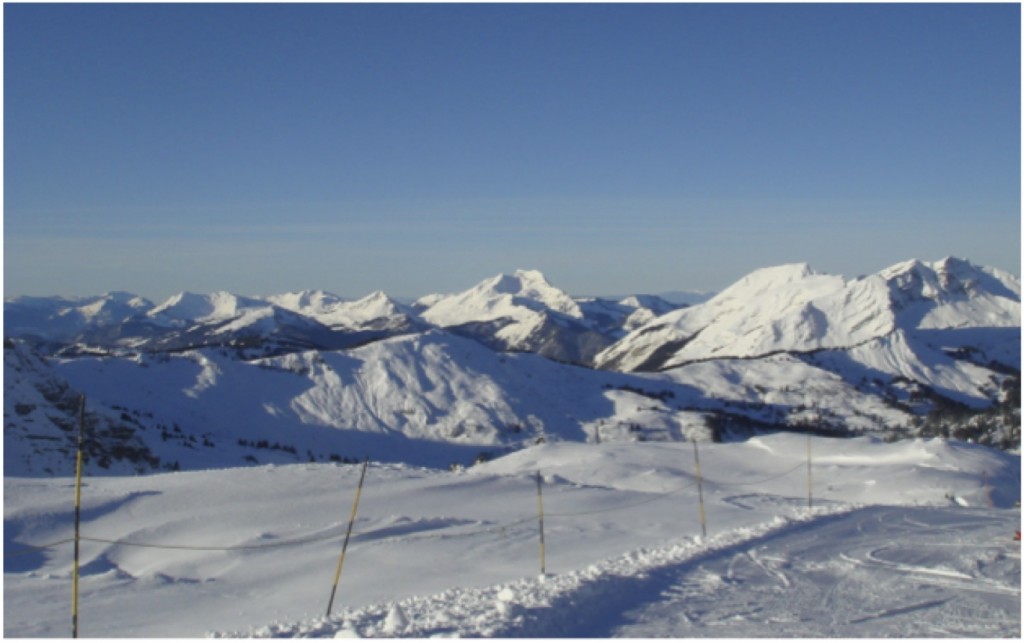 Want to learn to ski? There's no excuse for not getting fit and enjoying yourself. Travel Editor ANNE GORRINGE is just back from France where she discovered that the snow conditions have never been better…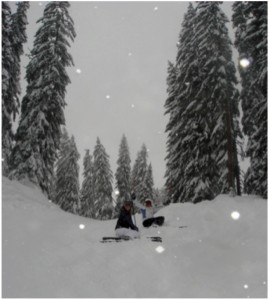 Bucket-loads of snow! And it's still snowing in the Portes du Soleil
If you're going to slip sliding down a red run, it's nice to have a lot of soft snow to fall on. And the bucket-loads of snow that continue to fall on resorts in the Porte Du Soleil made my trip the best-ever!
Being relatively new to the sport, I'm quite a tentative skier. But this season's fabulous conditions – which most people are saying are the best they can remember – means that when I flew head-first down the slopes as my ski came off I landed in a pile of soft snow!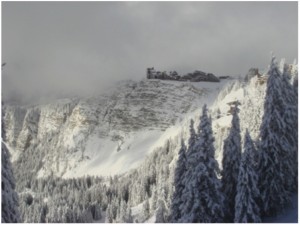 On a red run looking over to Avoriaz
Nothing was hurt, apart from my pride. So I was happy to dust myself down, clip back in and start again. Well, you know what they say – if you don't fall over, you're not really trying!
Having started skiing only five years ago, in a bid to keep up with my teenage children, I'm always slightly worried about getting injured. But the beautiful vistas…exercise and… ok, I admit it, stopping off for hot vin chaude at pretty cafes on the slopes, always tempts me back.
Plus, it's something we can do as a family AWAY from computer games.
And, it's great exercise. Skiing burns enough calories to allow you to tuck into hearty three-course meals in the evening without putting on weight! Eat carefully… and go easy on the wine and you can even lose weight!
With the snow continuing to fall this week on the Portes du Soleil some resorts are reporting they've already had more snow this winter than the whole of last season. So it's a great time to go.
The downside for very experienced skiers is that the avalanche risk means you need to check first with the experts before going off-piste on your own.
For the rest of us, piste management teams are working hard ensuring all runs are safe. When I was in the Chatel area, I could hear them setting off explosions each morning to make the snow safe with controlled avalanches.
While February half-term remains a firm favourite with families, if you can be flexible with dates, it still looks possible to pick up a relatively cheap week this season for around half the price of this popular holiday week.
I took my 18-year-old daughter Sara for five days for a pre-Christmas trip at a luxury chalet in Morzine at a price which came out 40% cheaper than New Year break.
Not only were accommodation costs lower, but the flight to Geneva on 15th December was less than half the price on a Xmas or New Year trip. An added bonus was the (relatively) deserted slopes I found by avoiding peak season.
Our catered chalet holiday (which included 5 course evening meals!) also had a hot tub in the garden, a sauna and massage rooms for relaxing and easing aching muscles.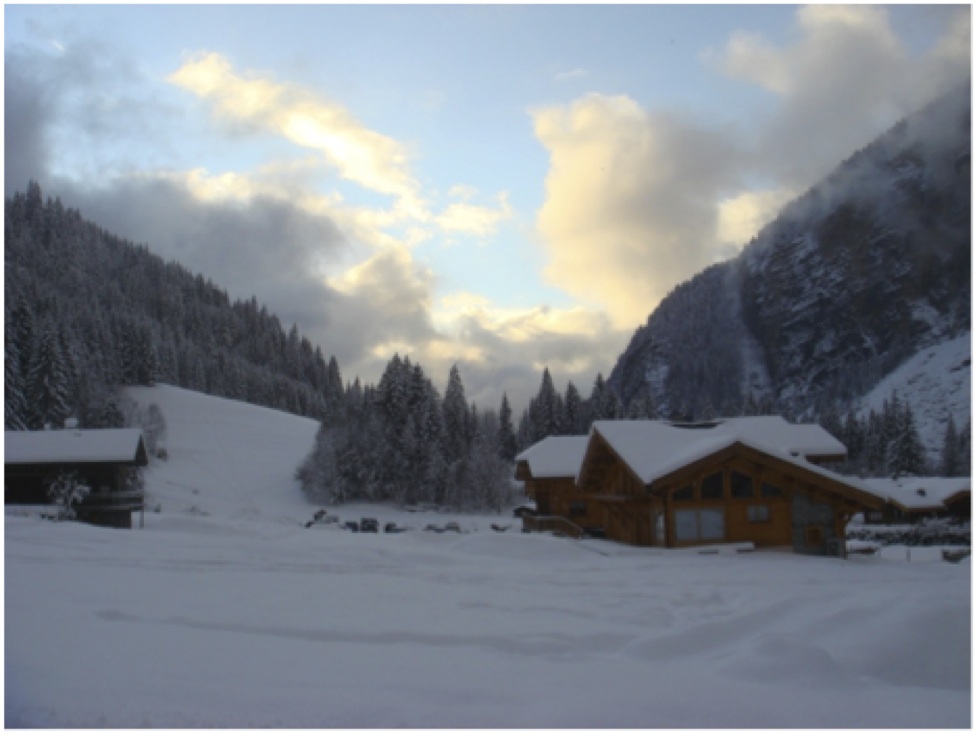 View from the hot tub at Chilly Powder's chalet Au Coin du Feu
An added advantage of staying in a luxury chalet turned out to be the large number of friendly staff, including the five on-site nannies employed to keep the younger children happy and occupied while their parents skied.
They were extremely welcoming to Sara and, as there were no other guests my daughter's age, went out of their way to make her feel at home. As I staggered off to bed, she was happy to sit at the bar in the evening and chat.
Other guests were fantastic too and I found the sociable aspect of all eating together at long tables. We often skied in a group with people from the chalet, adding to the fun!
One day we even found ourselves invited to an 'impromptu' birthday party. As we walked into a restaurant at lunchtime, 34-year-old Paul handed over a glass of champagne and we joined the group.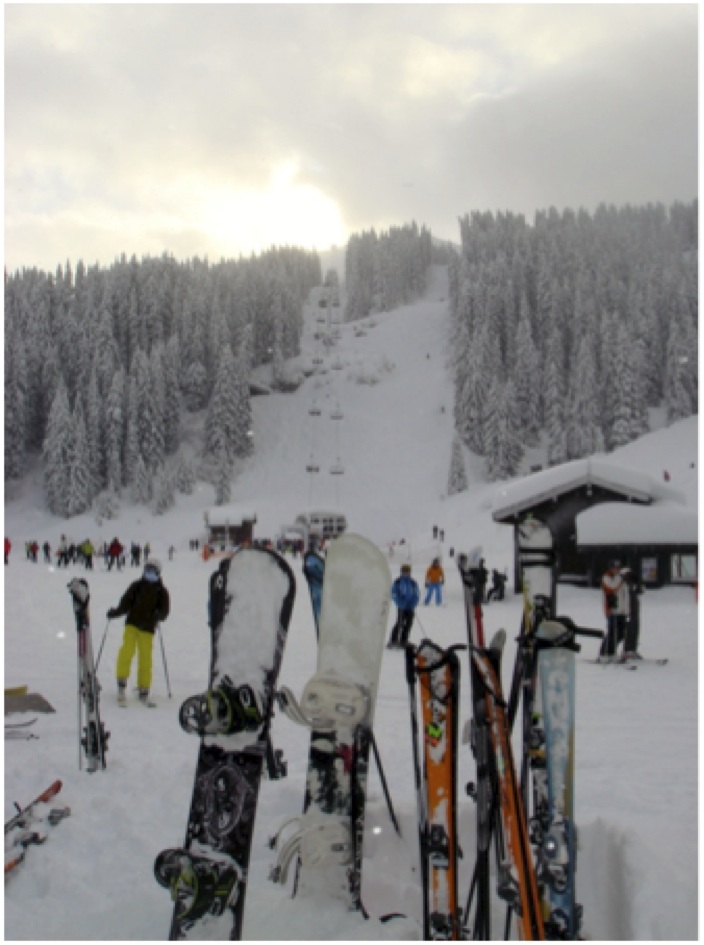 A lunch stop – a time for a hot bowl of onion soup and a glass of wine
He also encouraged Sara to try her first go at 'off-piste' just at the side of the run as I swooshed down the slope through the forest on the way to Les Lindarets… a great spot below Avoriaz, full of restaurants.
For fellow guests Gemma and Matt, who hadn't been skiing for two seasons, it was a return to the slopes for the first time since having their youngest daughter.
Matt, who's a good off-piste skier said, "it was perfect conditions. Fabulous snow – probably the best I've skied in."
Thanks to the day-long childcare facilities at the Chalet Au Coin du Feu where we stayed, Gemma was able to join him for a full-day skiing.
For another guest, Adrian and his 12-year-old daughter it was their fourth time staying with Chilly Powder.
Having stayed there myself I can see why. And with the price of a 7-day stay there, going out this weekend, much cheaper than later in the month it's tempting to go back…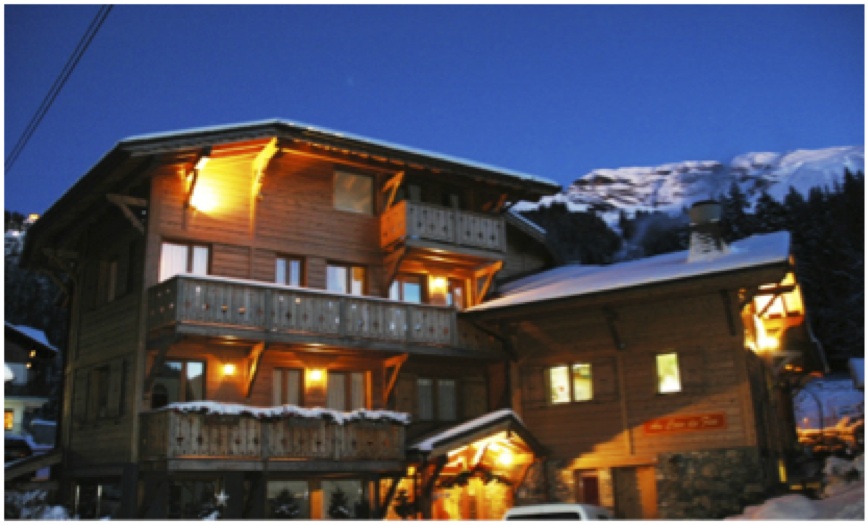 Chilly Powder's ski-in ski out chalet Au Coin du Feu has 17 bedrooms, including 10 specially designed family rooms.
Travel essentials:
Anne and her daughter Sara stayed at Chilly Powder's main chalet hotel, the Chalet Au Coin du Feu, just above Morzine and opposite Les Prodains lift which goes up to Avoriaz. To ski back, there are runs leading straight to the back garden and the hot tub!.Chalet Hotel Au Coin du Feu winter prices start from £580 per person per week with discounts available for families and children. Prices are based on a half board basis with wine included in the evening meals. Childcare is extra. See www.chillypowder.com Currently this week's prices, arriving on January 7th for a seven-day stay, are Euros 795, compared to Euros 1295 for half-term week, February 11.
Getting there
* Anne flew to Geneva with Easyjet from Bristol – see www.easyjet.com
Chilly Powder arranged the taxi for the 1hour journey to the chalet. Prices start at Euros 65 return for a shared transfer.
The area:-
For details on the area and a live webcam showing snow conditions, see www.morzine-avoriaz.com/
Skiing
* If you've never skied before – or need to improve your skills then The Avoriaz Alpine Ski School (formally the British Alpine Ski School Avoriaz established 1992) is a small, British-run team of professional ski and snowboard instructors. Chilly Powder will arrange lessons www.avoriazalpineskischool.com
*Ski hire – Doorstep Skis www.doorstepskis.com will come direct to the chalet to meet you and bring and fit skies and boots. Prices from €20 for helmets and €82 per week for skis and boots.