Two Bristol companies in the hi-tech and green tech sectors will share their experiences of doing business in China at an event next week to promote this November's Smart Cities trade mission.
Organisers of the visit want to tap into and showcase Bristol's world-class hi-tech and green tech sectors when they visit China's hi-tech centres.
Businesses in these sectors can find out more about the mission, which takes place between November 7 and 16, at a breakfast briefing hosted by HSBC Bristol on Tuesday. It will visit hi-tech firms and agencies in Hong Kong, Guangzhou, pictured, and Shenzhen.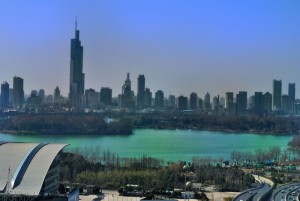 The mission's objective is not only to promote Bristol and its innovation to Chinese firms but to seek potential business partners and investors in the world's second-largest economy who are looking for opportunities in the UK.
Bristol boasts the world's second-largest cluster of micro-chip design expertise outside of California's Silicon Valley. Many of its leading-edge firms have become global players. Its smaller green tech sector is growing fast and will gain international attention next year when Bristol becomes the European Green Capital.
The mission is being organised by Bristol-based Red Dragon Advisors, which earlier this year hosted a visit from representatives of the Hong Kong Science & Technology Park who were impressed with the area's silicon design expertise.
Red Dragon director Richard Lowe said: "The unique mission will focus on promoting businesses and expertise into one of the fastest-growing and largest economies in the world and assist them in securing partners, projects, start up and export opportunities."
Key benefits are:
Export to one of the world's largest and fastest growing economies
Meet local government, industry bodies, partners & potential clients
Develop insight for market growth within China & Asia Pacific
Exchange 'knowledge' and network with like-minded industry experts
The mission is backed by the inward investment organisation Invest in Bristol + Bath, Low Carbon South West, the Institute of Directors South West, the Hong Kong Trade and Development Council, and the Hong Kong Science & Technology Park
The breakfast briefing takes place at HSBC's Temple Quay office between 8.30am and 10am.
.