Bristol-based creative business collective Istoria Group has launched a competition to find a women-owned micro business with exceptional growth potential to support as part of its incubator hub programme.
The winner will receive rent-free office space for up to four people for six months at Istoria's Paintworks base, along with a free website design and build, a brand critique/refresh and mentorship from the group's chair and heads of finance, marketing and PR.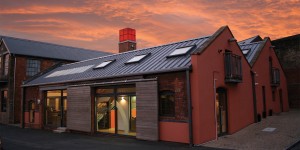 The move was inspired by an article on the International Women's Day's 2022 website which noted how often women have a particular gift for spotting opportunity-based gaps in the market for products and services.
However, due to a lack of capital as a result of gender and other biases – they usually have to start small.
To better target its search and spread the word to make sure the competition offer reaches as diverse and inclusive an audience as possible, Istoria is working with Black South West Network (BSWN) and Bristol-based youth empowerment organisation Babbasa.
Istoria Group chief marketing officer Lindie Kramers said: "As a women-owned SME, we're actively seeking to support another female-founded business in our region.
"We want to be as inclusive as possible in our search for the right micro business and would particularly welcome applications from traditionally under-represented communities in business- whether by age, class or ethnicity – to help promote social mobility and counter current imbalances in opportunity and representation."
BSWN business support coordinator Sibusiso Tshabalala added: "If the creative industries were as socio-economically diverse as the wider economy, the sector could provide employment opportunities to an additional 263,200 working-class individuals.
"However, the lack of diversity in the industry remains a challenge. Fortunately, creative agencies like Istoria Group are working selflessly and consciously to diversify the industry."
He said initiatives like this were particularly crucial in regions such as the South West, which lacked representation in the creative sector.
"By supporting minority-led agencies, we can foster the growth of diverse creative content that is relevant and engaging to both the local community and beyond," he added.
Babbasa head of development Matt Rogers said: "Many of the young people Babbasa supports are interested in entrepreneurship, and starting their own business is a key way for many young people to access an income that enables them to thrive. We're pleased to support this fantastic opportunity."
Lindie, Sibusiso and Matt are on judging panel that will select the winner along with Istoria Group CEO Sam Rowe and Cecilia Thirlway, senior lecturer in entrepreneurship at the University of Bristol's Centre for Innovation and Entrepreneurship.
Istoria, along with its constituent companies Ignition, and retail and branding design agency Phoenix Wharf, last year achieved the rigorous global standard of B Corp certification, which recognises firms that balance profit, people and planet.
It launched its incubator hub to underpin its dedication to start-up entrepreneurialism and business mentorship.
So far it has successfully helped to grow and 'hatch' two companies – children's book publishers i am a bookworm and innovation platform Solverboard, which was acquired last year by AIM-listed technology and innovation experts Sopheon and now rebranded as Acclaim Ideas.
Istoria Group is offering the competition-winning business free and self-contained office space on the mezzanine level of its Bristol Paintworks HQ for one to four people, with dedicated toilets and access to all shared office facilities, from a kitchen to bookable meeting rooms, as well as free electricity and wi-fi, for six-months from 1 June – 30 November 2023.
Istoria Group is additionally offering mentorship and in-house creative services made up of:
3 x 1-hour sessions with Istoria Group chairwoman Claire Menzies concentrating on business growth and entrepreneurialism

Free website design and build courtesy of Istoria Group's digital innovation specialists Tiny Spark

Free brand critique/refresh courtesy of Istoria Group's branding, retail and hospitality designers Phoenix Wharf

2 x 1-hour sessions with Istoria Group's finance director Bryn Isaacs, focusing on financial forecasting, cashflow and budgeting

2 x 1-hour sessions with Istoria Group's chief marketing officer Lindie Kramers, focusing on marketing strategies

2 x 1-hour sessions on PR and Communications with Istoria Group's PR consultant Caroline Collett, plus 500 words of free marketing or press release copy.
Applicants must be female-founded and based in Bristol or the South West region. They can be a business in any market and at any stage of early growth.
The deadline for applications is midnight on Wednesday 19 April 2023. To enter, visit www.istoriagroup.com/micro-business-competition-2023