Production of specialist components used in the fight against Covid-19 has soared into the billions at Bristol-based manufacturer Avon Group over the past year.
The firm has made and shipped worldwide upwards of 7bn aerosol stems, gasket seals, pictured, and similar items used in sanitisers, soap dispensers and cleaning products since the pandemic struck more than 12 months ago.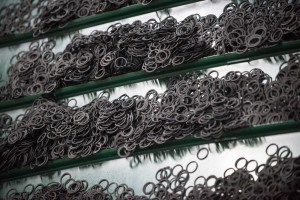 The company invested in sophisticated, automated production equipment and quality monitoring systems before the onset of the crisis and, as a result, was able to scale-up output to meet the unprecedented huge surge in global demand for products that can help protect against Covid-19.
Avon Group, which was established in 1979 as Avon Gasket Manufacturing, initially to make a range of gaskets, seals, joints and washers, is now the largest manufacturer of aerosol valve and stem gasket seals in Europe and one of the largest in the world.
Its laboratory and manufacturing facility in South Wales produces stem and gasket seals used in the manufacture of aerosols and pumps that safely dispense a huge range of liquids and gases.
While the £80m turnover company has not given comparative figures for the pre-pandemic period, it said production since Covid-19 spread across had "gone into overdrive".
"The products we manufacture are used in literally billions of household and industrial aerosols," group operations director Kevin Harrop added.
"The Covid-19 pandemic sparked a sudden, massive increase in global demand for these products, but as a result of significant innovative investment we have been able to meet this demand by successfully gearing up production and not compromising on quality or delivery lead times."
Avon Group has also made key acquisitions over the past seven months. April's takeover of Corby, Northamptonshire-based Scandura – the UK's longest-established gasket manufacturer – follows that of Edgewest Plastics (UK) last October.
The privately owned group, which is headquartered on South Liberty Lane, is made up of eight companies based around the UK. It also has a sales, technical and distribution base in the US.