Bristol specialist plastics manufacturer Phineas Group International has officially opened its new factory – the latest firm to 'reshore' production from China.
The state-of-the-art plastic injection moulding factory in Hengrove has been made possible with a £100,000 grant from the West of England Growth Fund.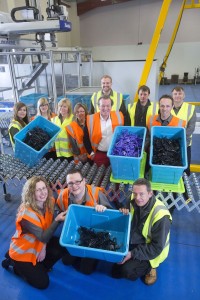 Phineas supplies more than 60m plastic shoe hangers every year for stores across Asia, America and Europe. Its products are seen on the rails of most high street shoe retailers such as Next, Marks & Spencer and Asda.
While much of its production is in factories in China, the growth fund investment has enabled it to bring some manufacturing back to the UK and also make its process more sustainable. Rising labour rates in China and the Far East and the increasing cost of shipping is making many manufacturers of high-volume goods look at bringing production back to the UK – a trend known as reshoring or onshoring.
Managing director Dan Wright said: "We make much of our product in China for the Asia market, but we have a growing demand in Europe and we're passionate about on-shoring (bringing this production back) to Britain and Bristol is a great city to base ourselves in.
"The £100,000 from Growth Fund has enabled us to invest in new premises and equipment in South Bristol. We're now able to offer a closed loop plastic recycling and injection moulding service to other businesses for other types of products from here in Bristol."
Pictured: Bristol Mayor George Ferguson surrounded by Phineas workers at the new factory
The fund is supported by the Government's Regional Growth Fund, administered by the West of England Local Enterprise Partnership (LEP). Its two main aims are to create private sector jobs and to lever additional private sector investment into the economy.
The new factory, which employs 12 people, was formally opened this week by Mayor of Bristol George Ferguson, who said: "This is a wonderful project and it's great to hear that the award from the LEP's Growth Fund has enabled them to fulfil their ambition to open in South Bristol.
"Phineas are committed to growing a sustainable manufacturing facility with investment in the very latest energy efficient equipment as well as in renewable energy generation in order to reduce energy costs in the long term.
"It's terrific to see their operation here and I hope it encourages other manufacturers to invest in the city."
The firm was founded in Leicestershire in 1984 by Dan's father Chris Wright and his business partner Syd Harris. The company has operations in Hong Kong , India and the US as well as Bristol.
.