Two Bristol-based businesses' achievements in renewable energy and cleantech projects have earned them accolades in a major national awards scheme.
Ethical lender Triodos Bank UK and GENeco, the renewable energy and recycling company best known for its poo-powered Bio-Bus, were among the winners at this year's British Renewable Energy Awards, ran by the Association for Renewable Energy and Clean Technology (REA).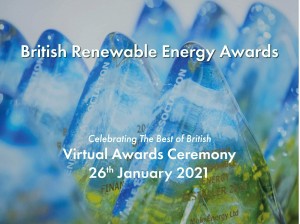 The awards – a prestigious event in the UK's renewable energy industry calendar – recognise and celebrate the achievements of companies and individuals working in renewables or clean technology over the past year.
Triodos topped the Financial Leadership category – beating NatWest Group and Privilege Finance – due to its work in championing net zero transition by providing finance to support a rollout of electric vehicle (EV) charging points at 600 Tesco stores, helping launch the UK's first intercity all-electric coach route between Edinburgh and Dundee and funding Bristol-based EcoMove stores selling individual e-transport such as e-bikes and e-mopeds.
The category specifically looks at a financial product that has accelerated the deployment of renewables in the UK during past year.
GENeco, which was created by Wessex Water in 2008 and operates out of Bristol sewage treatment works in Avonmouth, won the Low Carbon Transport Award. It was also shortlisted in the Sustainability category.
Triodos Bank UK environment team leader Philip Bazin said: "As well as our continued lending to sustainable energy projects, 2020 was a year of firsts for us in the sustainable transport sector.
"We entered this year's REA awards to highlight our willingness to adapt our products and services to support new and evolving business models, in the hope that other financial institutions will follow suit."
The awards judges commented: "Triodos are very brave and supportive investors. Their first-of-a-kind investments are exemplary, and they are a real role model on a number of different fronts."
GENeco has a history of running vehicles on low-carbon, clean fuels, including its Bio-Bug – the UK's first VW Beetle powered by human waste – and the Bio-Bus, the first bus in the UK to run on sewage and food waste.
Also recognised at the industry awards was Ferry Farm community Solar which partnered with Triodos Bank on a successful crowdfunding bond raise last November. The West Sussex organisation was highly commended in the Community category.