Professor Peter Higgs, the former Bristol schoolboy who became a world-renown scientist and after whom the elusive Higgs boson is named, has won the Nobel Prize for Physics.
Prof Higgs shares what is recognised as the greatest prize in science with Belgian scientist Francois Englert for their part in proposing the mechanism that explains how the most basic building blocks of the universe have mass. This is now known as the Higgs boson.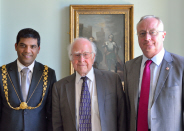 It was as a schoolboy at Cotham Grammar School that Prof Higgs, now 84, first showed himself to be a brilliant student. He won many prizes at the school – though, ironically, none for physics.
He was inspired by the work of another Bristol-born Nobel Prize for Physics winner, Paul Dirac – one of the physicists who helped lay the foundations for quantum mechanics.
Prof Higgs was awarded the freedom of the city of Bristol in July in recognition for his work.
He was born in Newcastle upon Tyne in 1929, the son of a BBC sound engineer, but his family later moved to Bristol.
Pictured above: Prof Peter Higgs in Bristol in July when he was presented the freedom of the city. He is flanked by the Lord Mayor Cllr Faruk Choudhury, and Bristol University's Vice-Chancellor Professor Sir Eric Thomas