Work could restart on one of Bristol's largest city centre mixed-use redevelopment schemes after nearly two years – but with some significant changes.
Following a transfer of ownership, new plans are being drawn up for the 2.5-acre Redcliff Quarter site which could result in what would have been its landmark 23-storey apartment block being reduced to 19 storeys and the number of homes increased two-and-a-half times.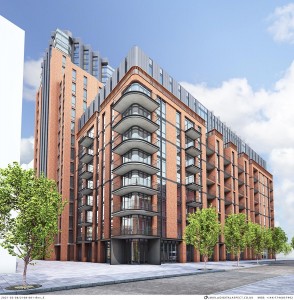 A planned continental-style food market – a pedestrianised street flanked by independent bars, cafes and food shops that would have highlighted Bristol's indie food scene – has now been scrapped.
New owner, Northampton-based CG Developments (CGD), said it needed to make changes to the approved scheme to ensure it could be built – and it intends to start onsite as soon as permission is granted. Planning permission could be sought as early as next month.
A first tranche of 118 apartments was built on part of the site by previous owner Change Real Estate after it secured planning permission in 2017.
The Kent-based developer had promised an "inspirational development" but the £250m project on the long-derelict site between St Thomas Street, Redcliff Street and Three Queens' Lane, has effectively been mothballed for around two years.
At the time it was the biggest regeneration project underway in the city centre – and one of the largest in the UK.
CGD is proposing a mainly residential development, which it said would help meet the housing need in Bristol, although it is keeping some retail and a small amount of office space.
The total number of homes currently proposed is 468 including 94 affordable homes – equivalent to around 20%.
The market homes will all be one and two-bed market homes for rent, owned and managed by a single professional 'build-to-rent' company, said CGD.
Residents will have access to shared social and workspaces and communal gardens. The building will also have a reception and 24/7 concierge onsite at all times.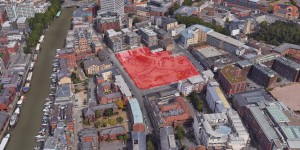 CGD said while the food court had been a popular part of the approved scheme, concerns had been raised by council officers that this would have had a negative impact on nearby 'foodie' areas, including St Nicholas Market, Finzels Reach and Wapping Wharf.
However, the new application does include a small number of retail units along Three Queens' Lane and a new pedestrian link connecting Redcliff Street and St Thomas Street.
The new application does not include a section of the site on which Change Real Estate planned a hotel.
CDG said its development would include wider pavements with trees along Redcliff Street, St Thomas Street and Three Queens' Lane. A new segregated cycle lane on Three Queens' Lane would also help prioritise cyclists and pedestrians in what is currently a car-dominated environment.
Apart from reducing the height of the tallest building, the new proposals have a similar scale and mass to the approved scheme. The buildings would range in height from one to 14 storeys, as well as the 19-storey building at the centre of the scheme.
Inside the development will be a raised landscaped courtyard garden which will sit on a podium at first floor level. There will also be roof top terraces for residents.
Solar panels are proposed for parts of the roof, and the scheme is expected to plug into the Bristol's heat network.
As part of the sustainability measures, car parking spaces would be limited to about 47, with 613 bike storage spaces, meeting the council's policy requirements.
A CGD spokesperson said: "This is a highly-sustainable location for new homes on a city-centre brownfield site.
"Having reviewed the scheme that already has planning permission, we've made some significant changes, to ensure the development best meets the city's needs, but a scheme that we are also confident can be built as soon as planning permission is granted.
"More than doubling the number of much-needed affordable homes from 38 to 94 is a significant and positive change of direction, notably providing homes that are affordable for key workers.
"The height of the approved tallest building was also seen by many as controversial, so we have responded to this by seeking to reduce its height by about 25%.
"Cafes, restaurants and bars have been badly hit this year, but retail generally was already facing significant challenges. So we've dropped the proposal for a food court which we felt simply wouldn't work – nobody wants more empty retail spaces.
"There is such a huge housing need in Bristol, and this is such an obvious and sustainable place for people to live – next to jobs, key services and facilities. So, we feel reshaping this important regeneration to deliver more homes is absolutely the right thing to do."
Due to Covid restrictions CGD cannot holding any public exhibitions of its proposals but it said it wants to hear what the community has to say about the scheme.