Experienced licensed insolvency practitioner Mark Roach has joined regional accountancy group PKF Francis Clark's Bristol office as it continues to invest in its business recovery team to help firms through the recession.
Mark, who joins as an associate director, brings to five the number of insolvency practitioners at the firm, the South West's largest independent firm of chartered accountants and business advisers.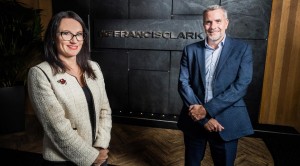 The business recovery team prides itself on its rapid analysis of often complex and urgent circumstances and good quality advice along with a focus on rescuing businesses, working with all stakeholders and avoiding formal insolvency where possible.
Mark, pictured with PKF Francis Clark partner and head of business recovery Lucinda Coleman, has more than 30 years' experience in dealing with businesses in financial difficulties, from larger mid-corporate entities to partnerships and sole traders in sectors spanning IT, manufacturing, professional practices, leisure, hospitality and care homes.
Having spent his career working for Bristol accountancy firms – starting off with Solomon Hare and ending up at Quantuma, via NMGW, Numerica and BDO – he recently took a year out to fulfil a lifelong ambition of travelling the world.
Mark said: "Having enjoyed working with some of the team here in the past, I felt that PKF Francis Clark's ethos would be a good fit for me because what I enjoy about my job is helping people to secure the future of their businesses.
"I believe it's important to invest time in supporting clients amid what is a very difficult economic climate, and that we can really add value with good advice.
"Going through a formal insolvency process can be a very emotional experience for a business owner, so I've always taken a holistic, hands-on approach to helping them through it.
"This way of working is one of the things that attracted me to PKF Francis Clark, along with the friendly culture and the value the firm puts on people's work-life balance."
PKF Francis Clark has also appointed Truro-based director Michael Hall, who has more than 20 years' experience in finance, accounting and restructuring.
Lucinda Coleman said: "Mark and Michael bring many years' experience of acting to achieve the best possible outcomes for business owners, employees and creditors, so I'm delighted they have joined us.
"We're investing in growing our team, with experts on the ground across the region, in order to help businesses through the difficult times ahead.
"With proactive advice, it's often possible to secure the future of distressed businesses, so we always encourage directors to seek advice as early as possible if trading is deteriorating."
Since opening three years ago, PKF Francis Clark's Bristol office on Victoria Street has grown rapidly and now has a team of around 50 people advising a wide range of clients.
It is one of the firm's eight offices across the South West, which between them employ 55 partners and more than 800 members of staff.