Five young people taking part in a pioneering heritage film and broadcast project staged by Bristol's urban music community radio station Ujima 98fm have been accepted onto BBC Radio's Face 2 Face courses.
The five – some of whom may be offered paid work with the BBC – have been selected from a 30-strong group of 17 to 25 year olds forming the Young Roots heritage project Dub Plate to Dub Step.
Ujima, based in St Pauls, received £29,400 from the Heritage Lottery Fund (HLF) to launch the project in August.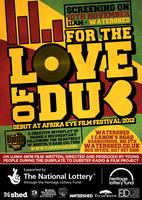 With festivals and events taking place across the globe to celebrate Jamaica's and Trinidad & Tobago's 50 years of independence, Ujima is giving local young people the chance to contribute.
Dub Plate to Dub Step is a youth-led cultural radio show, short film and web resource that will explore the journey of Caribbean and Jamaican music and cultural stories from the past 50 years and look at their influence on Bristol. Participants will reference cultural and music trends from the earliest vinyl dub plate records produced in Jamaica's famous Studio One in the late 1950s, tracing these early reggae and dub sound system classic beats through to the dub step artists of today. The project will launch with a screening of Kevin Macdonald's Bob Marley bio-pic Marley at Bristol's Watershed Cinema.
The project aims to stimulate interest in the research of relevant local cultural heritage and archive materials led by Dr Edson Burton, with support from partners M-Shed, Bristol Records Office and Watershed.
It is offering young people, including some who may be unemployed or not currently in education, the opportunity to gain experience and confidence in researching, radio broadcasting, interview techniques, filmmaker training, and writing and design skills.
Working alongside professionals such as BBC reporter and Ujima Radio founder Kevin Philemon, filmmaker Rob Mitchell of Firstborn Creatives, and mentor and consultant Roger Griffith of 2morrow2day, participants will set up interviews with relevant music artists and pioneers and influential community elders who have contributed to enriching Bristol's cultural landscape.
A documentary-style radio show and short film inspired by their music and cultural journey has been produced by the group and aired on Ujima 98fm will be showcased at Watershed this Saturday as part of the Afrika Eye film festival.
All Dub Plate to Dub Step recordings and materials created and collected by young people will be collated for a web page educational resource in 2013.
Kevin Philemon said: "We are delighted to have received this award from the Heritage Lottery Fund. I am confident not only will it ensure we develop new skills and training opportunities for young people in our community, but will ensure they create a valuable piece of Bristol's cultural history to be enjoyed by future generations"
Acting head of HLF in the South West, Richard Bellamy, added: "Our research shows that the richness and diversity of the UK's heritage can inspire young people from all backgrounds. Helping them to understand that heritage is about everyone and for everyone; which is why we are so keen to support projects like this one that enable young people to explore their cultural identity and to find out about the individuals who have shaped their local communities."