The work of new and emerging artists from refugee backgrounds is to be showcased to West organisations and businesses to explore ways they can be employed on creative projects.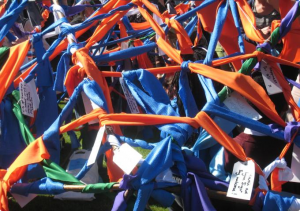 The groundbreaking initiative, the result of a link-up between St George's Bristol and Platforma South West, the arts and refugees network, will introduce the performing and visual artists to a wider audience at two events this weekend – Platforma Expo and Platforma Live. In addition to the showcase element, Platforma Biz aims to give the artists tools to become more business savvy.
Artists within the Platforma South West network hail from around the globe, including Tibet, South Sudan, Zimbabwe, Serbia and Iran, yet live and work here in the West of England. They bring with them richness of experience, professionalism and a desire to share their art and culture with new audiences. They offer a diverse range of skills, working in a variety of disciplines, including music, song, photography, dance, poetry and craft.
Outset Bristol, the business start-up support organisation, will be running a free business development workshop for artists from refugee backgrounds and those working with or making art about refugees. Brave (Bristol and Avon Enterprise Agency) will also offer tailored one-to-ones with their creative business advisor.
Tom Green of the national Arts Council and Barings Foundation funded Platforma project said "Platforma is keen to see how the Platforma Expo, Live and Biz events go in Bristol. If successful, this could become a model that other Plaforma regions adopt. It is responding to refugee artists' needs and presenting their work to new audiences."
Platforma Expo launches this evening between 6-8pm with an opportunity to meet the artists. General viewing is between noon and 8pm and tomorrow and Saturday.
Platforma Biz takes place tomorrow between 9.30am-1pm
Platforma Live is on Saturday 6-8pm