An innovative chef has teamed up with a city centre speciality bar to offer diners with food intolerances an inclusive menu in an eight-week residency in the run-up to Christmas.
James Lee Gordon of Filton-based The Chocolate Bear Kitchen is collaborating with the Strawberry Thief in Broad Street to offer a gluten-free menu designed to match its craft beers, often also gluten-free.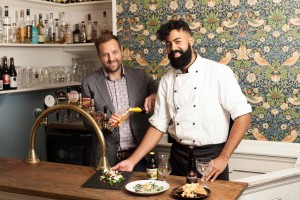 Customers will be able to pair small plates menu of savoury and sweet dishes with a selection of 10 of the bar's 50 beers and wines available. The menu will be 100% gluten free and at least half the options will be vegan.
Feature dishes will include crispy homemade chicken sausage with braised leeks, paired with an amber Belgian beer called Kwak; cured mackerel, celeriac remoulade, orange and sesame, paired with strong Belgian pale ale called La Chouffe; and vegan waffles with poached pear and chocolate infused poaching liquor, paired with a dark Trappist beer, double fermented, called Westmalle Dubbel.
The residency starts next Tuesday and will run until the end of December. The table service only bar has space for 70 covers.
Mr Gordon has more than a decade of experience in AA rosette, Michelin-rated and organic restaurants. He set up The Chocolate Bear Kitchen after seeing the impact that diets, intolerances and allergies can have on customers and kitchen staff.
With recent NHS research showing that reported food allergies have risen dramatically in the past five years, Mr Gordon believes his style of catering is becoming increasingly relevant.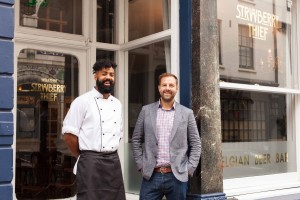 "The idea is to demonstrate to diners and chefs that food can taste great and be inclusive for everyone, no matter what their dietary requirements," he said.
"I've worked in kitchens which have been thrown into confusion because a diner has come in with a gluten intolerance or a nut allergy. And it doesn't need to happen.
"For example there are so many alternatives to wheat-based foods which taste great and some can actually be healthier. This residency at Strawberry Thief aims to showcase that and it's the first step in taking the message across Bristol and hopefully beyond.
"It's really exciting. The bar has fantastic Belgian beers which will taste great with the menu I've designed and I'm looking forward to welcoming our first diners."
It is not the first time Mr Gordon and Mike Harris, the owner of The Strawberry Thief, have worked together. Mr Harris' business sponsors the Young Entrepreneurs Network Association and Mr Gordon was a key feature of an event hosted by the group last month.
Mike Harris took over the bar in a former Georgian shop in June. It is named after the William Morris wallpaper design which decorates the interior.
Mr Harris said: "The plan for Strawberry Thief is to develop the concept of delivering high-quality products and service in an all-inclusive establishment. It's proving to be an exceptionally enriching journey.
"James' style of cookery is the perfect fit for what we do here – his food is natural, delicious and healthy and the beers we serve will complement his dishes perfectly.
"Diners can look forward to something really innovative and interesting – the kind of thing Bristol does better than anywhere."
Pictured: Top. James Gordon of the Chocolate Bear Kitchen, right, with Mike Harris of The Strawberry Thief