Two Bristol firms have joined forces with international tech group Renishaw, based just outside the city, to break new ground in 3D printing, a pioneering process with the potential to revolutionise manufacturing.
While 3D printing has been around for some years, because it is not repeatable on a large scale it has so far been mainly used for prototyping and to create one-off, high-value products.
But now additive manufacturing company Hieta and software developer Sysemia – both based at the Bristol & Bath Science Park – are investigating how it can be scaled up to mass produce objects.
The small innovative firms are collaborating in the project with Renishaw, based at Wotton-under-Edge and the UK's only manufacturer of a metal-based 3D printing machine.
The collaboration aims, within three to five years, to produce 50,000 recuperators a year –devices that recover waste heat in engines.
Hieta Technologies chief executive officer Mike Adams said: "One of the biggest challenges our industry faces is how to commercialise 3D printed products. We expect this project to completely redefine the boundaries of additive manufacturing and prove that a large number of the same object can be produced at a competitive cost."
Hieta started out producing heat exchangers for engines using the additive manufacturing process but has now diversified and produces a wide range of engineering products for a number of industries including automotive, aerospace and general manufacturing.
Mike Adams continued: "One of the great advantages of 3D printing is that it's less wasteful than traditional manufacturing techniques because you don't need to cut or remove materials in order to create an object. It also has the potential to create lighter and more efficient products.
"Imagine a situation where the whole world can take part in this process, with 3D printing being done at home, in the office, at hospitals and in schools. This could open the doors to all sorts of every day products being 'printed' by anyone who has access to the technology."
Hieta was founded two years ago and started with a virtual office at the Park before moving to a bigger six-person office in October. It plans to move to a bigger office in the New Year.
Mr Adams said the location had been a big advantage.
"We moved to the Science Park because we wanted to be somewhere which nurtured new ideas and gave us the opportunity to work with like-minded organisations," he said.
"That's exactly what the park has delivered and within a few months of being here we had struck up a relationship with Sysemia and we quickly realised that we could work together to develop this project with Renishaw.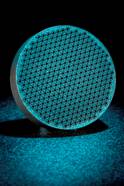 "We are a young and vibrant company and we want to attract the best people, so Bristol is a good fit for us. It means we can tap into the high proportion of graduates and post-graduates in the city."
Funding for the collaborative project has been provided by the Technology Strategy Board, the UK's innovation agency set up by Government to stimulate and support business-led innovation.
Bonnie Dean, chief executive of the Bristol & Bath Science Park, said: "Hieta is a great example of how ground-breaking projects can be born out of serendipitous meetings at the Science Park.
"Our purpose is to create a vibrant eco-system where entrepreneurs and businesses can find unexpected opportunities."
The Universities of Bath, Bristol and West of England are key stakeholders in the 59-acre Science Park at Emersons Green, north Bristol.
Pictured: A heat exchanger created by Hieta using the 3D printing process