Sam Williams has joined Colliers International's development consulting team in Bristol straight from university and will be working alongside team head Chris Dawson, Louise Seaman and Nick More and town planning colleagues.
Recent instructions for the team include local authority school development viability work in Wiltshire, advice on a new neighbourhood centre as part of a major residential development in Gloucestershire and advising an occupier on redevelopment of a site in Avonmouth.
It has also been appointed to market a 17-acre brownfield site in Bitton and has just completed the sale of a brownfield residential development site in central Bath.
Chris Dawson said: "Despite difficult marketing conditions and economic uncertainty, the range and volume of our consulting continues to grow.
"Sam's recruitment reflects this and is intended to ensure that we continue to offer the best possible service to all our clients."
Pictured: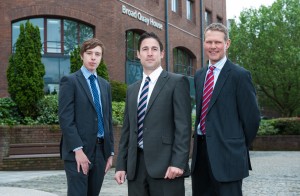 Sam Williams, left, with team members Nick More, and Chris Dawson