The developer behind Bristol's largest speculative office scheme has vowed it will also be the city's first carbon net zero building.
CEG's 200,000 sq ft EQ, pictured, which is under construction on Victoria Street, will support Bristol City Council's declaration of a climate emergency and pledge to make the city carbon neutral by 2030, according to the London and Leeds-based developer.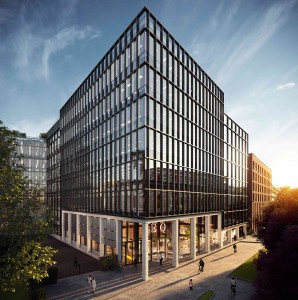 Once completed next February, EQ – formerly called Aspire – will operate in accordance with the UK Green Building Council's (UKGBC) framework approach, CEG said, with its use of green electricity, solar panels and rainwater harvesting contributing to its carbon net zero status.
CEG said the striking glass building, which will house more than 2,000 workers, will also raise the bar in terms of quality and occupant wellbeing, with 20,000 sq ft of amenities.
These will include a rooftop bar, restaurant and business lounge with communal terrace, ground floor café kitchen, 50-seat auditorium, as well as a fitness suite and break out space.
Property agents marketing EQ at a time when the coronavirus pandemic is forcing businesses to review how they use their employment space are calling it a "once-in-a-lifetime opportunity" for occupiers to improve their office by taking space in a pioneering building.
Cushman & Wakefield partner Andy Heath said: "The way we use offices is changing forever and, whilst its early to see any real post pandemic trends, the key theme is that occupiers want the best quality office space and that is exactly what EQ offers, both physically and sustainably."
Jones Lang LaSalle director Ian Wills added: "Many businesses are planning how they are going to reduce their carbon footprint, and those that haven't soon will.
"Staff, customers, and investors will demand it and so will the taxman. Buildings like EQ are leading the way and offers its occupiers a quick-win on their journey to de-carbonise their operations."
Sustainability features designed into EQ that will achieve its carbon net zero rating include:
100% green electric

On-site renewable energy provision through photovoltaic units on the roof  (capable of saving 25t of carbon dioxide each year)

Connection to Bristol City Council's district heating network

Rainwater recycling (saving 2,000 litres of water per occupant each year)

Fabric-first design – a more efficient façade reduces the amount of energy the building needs

Use of SMART technologies to enable the optimum control to drive operational performance

Priority access for cyclists with a dedicated bicycle entrance and ramp from Temple Street to secure basement cycle parking (more than 260 spaces) and health club quality changing and shower facilities

Electric charging point at each of its 32 car spaces plus e-bike charging points.
BuroHappold, the Bath-headquartered global consulting engineering group has worked closely with CEG and its design team, including the Bristol office of international architects Aukett Swanke, to ensure that EQ delivers an exceptional workspace while also being at the forefront of low-energy design and sustainability.
Its UK director Phil Lines said: "EQ balances two of the most important issues in the built environment; wellbeing and sustainability. Occupant satisfaction and wellbeing has always been a key driver for this project. EQ is exciting and has really raised the bar in workplace design."
CEG investment manager Paul Richardson added: "Our approach to sustainability is ambitious and embedded into everything we do.
"Working closely with our architects and engineers we have pushed the innovation boundaries to ensure well-being, technology and sustainability are at the heart of the EQ development.
"As a result, we are delivering the first new build office development in Bristol to commit to being Carbon Net Zero in operation in accordance with the UKGBC framework."
CEG is one of Bristol's largest office owners, with 400,000 sq ft in its local portfolio, including The Quorum on Temple Way, The Crescent Centre on Temple Back and 1000 Aztec West as well as EQ.
The Quorum has been recently refurbished while a planning consent has been granted to redesign/ re-configure The Crescent Centre.
The team is also preparing a multi-million pound redevelopment and extension of 1000 Aztec West. The comprehensive refurbishment will create a one-of-a-kind 79,000 sq ft headquarters building.