Europe's largest hotel chain is expected to open Bristol city centre's newest hotel on Monday, May 17 – the first day possible under the lifting of lockdown restrictions.
The 197-bedroom Leonardo Hotel Bristol Glassfields, part of the new Glassfields mixed-use development on Temple Way, is the Irish-owned brand's first hotel in the city.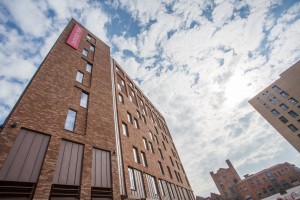 The group also owns the Jury's chain, which previously operated what is now the Bristol Hotel on Prince Street.
The Leonardo Hotel will also have a fully equipped gym, bar and restaurant.
The group said it had been designed for business travellers working in a hybrid way, allowing them to hot desk in the connectivity area, bar or in Leo's restaurant, while also bringing comfort and style to guests looking for a UK break as staycations return.
The hotel, the chain's 13th in the UK, will employ up to 50 people by the end of this year and is likely to be the first of a string of openings in Bristol following delays caused by the pandemic.
However, a number of hotels that were due to be part of mixed-use schemes around the city have  fallen foul of changes in planning guidelines or development trends – with an emphasis now on more affordable housing.
Leonardo hotels said its new hotel features contemporary interiors made from sustainable materials, pictured, to fit with Bristol's ecologically friendly and environmentally aware approach to development.
It will be BREEAM certified, built in line with the world's leading sustainability assessment method and designed to help protect natural resources, the environment and promote wellbeing, the group said.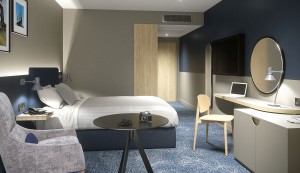 Jury's Inn and Leonardo Hotels UK managing director Jason Carruthers added: "After expanding our offering in the capital, we are very excited to be launching in one of the UK's most vibrant cities and in such a central and accessible location. We very much look forward to welcoming guests to the new property once our doors open.
"Bristol is a city renowned for its arts, music and hospitality scene, as well as independent shopping to match its independent spirit. The hotel is footsteps away from music venues and theatres as well as some of the best dining and shopping in the city. We're looking forward to becoming part of it."
The group also operates 36 UK hotels under the Jury's Inn brand. It is a member of the Fattal Group, which operates more than 200 hotels in 17 countries, and is also part of Pandox AB – an established European hotel property investor and owner with 143 hotels and approximately 31,600 hotel rooms in 15 countries, including 20 Jurys Inn freehold hotels.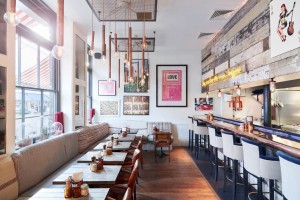 Among the other hotels due to open in Bristol this year after being delayed by Covid-19 is the design-led Artist Residence in a derelict boot factory in Portland Square, St Pauls, which was originally scheduled to open in the summer of  2019. The hotel has 23 rooms, bar, pictured, restaurant, coffee shop, event space and terrace garden.
Other planned openings are the six-storey, 214-room Moxy hotel on Newfoundland Street and a 145-room venue from 'super-budget' chain easyHotel in Old Market.
Also in Old Market, developer First Base scrapped plans for an aparthotel as part of its regeneration of the 2.25-acre former department store Gardiner Haskins site in favour of increasing the number of homes by nearly 50%.
And CG Developments, which has taken over the 2.5-acre Redcliff Quarter scheme, appears to have scrapped the previous owner's plans for a 239-bedroom 'European-style upscale lifestyle' hotel on the site in favour of more homes.