An environmental and engineering consultancy that was once called in to monitor audience laughter during a Bristol comedy festival following complaints that it was too loud is to open an office in the city.
Wardell Armstrong is to establish the office in the Redcliffe area of the city as demand for its services continues to grow across the South West.
The base will have initial capacity for six staff – who are working remotely at present – with more expected to join as it becomes established.



Stoke-on-Trent-headquartered Wardell Armstrong provides a wide range of services from ground, civil and structural engineering to environmental planning, energy, climate change and waste resource management.
The consultancy's work in Bristol includes a commission from the organisers of the Comedy Garden in Queen Square, pictured, three years ago to carry out an 'acoustic evaluation of noise impacts' following complaints by residents of loud audience laughter during performances.
The new office, one of 13 across the UK and globally, will work with Wardell Armstrong's existing clients in Somerset, Gloucestershire, Wiltshire and the wider South West alongside its Cardiff base.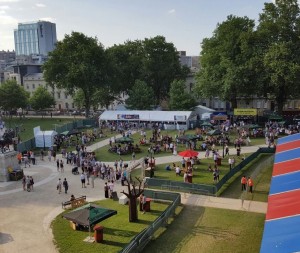 It also has in-house specialist teams in areas such as, geo-environmental engineering, planning, heritage, environment, ecology and archaeology.
The Bristol office opening comes as part of the firm's plan continued expansion and follows last October's acquisition of Suffolk-based Archaeological Solutions, which boosted Wardell Armstrong's existing archaeological and heritage team.
Wardell Armstrong technical director and Bristol office head Ali Kemp said: "We are looking forward to being part of the thriving business community in Bristol.
"The focus of the Bristol team is to build on our experience and expertise in the waste, resources, energy and climate change sectors, whilst continuing to support the wider environmental and engineering service offerings of Wardell Armstrong."
Wardell Armstrong was set up as a mining and minerals company in 1837 and over the years has diversified into a multidisciplinary environmental, engineering and mining consultancy.