At-Bristol, the city's science centre, has been highly commended in the national VisitEngland Awards for Excellence, the highest accolade in English tourism.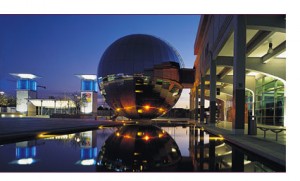 Having gained silver in the South West awards in 2012 and won in the Bristol awards in February, At-Bristol went into the national final, competing in the sustainable tourism category. It lined up against Beechenhill Farm in Derbyshire, Hoe Grange Holidays, also in Derbyshire, and Kelling Heath Holiday Park in Norfolk – making it the only visitor attraction in the category.
At-Bristol sustainability manager Chris Dunford said: "We're so pleased to have won this award. We were the only tourist attraction in the running and are still relatively new to sustainability being such an integral part of our business.
"We went into it in a big way in 2011 and since then we have won a Gold Green Tourism award and Carbon Champions 2011 and 2012 for a 21% reduction in energy usage. From there we've implemented lots of other schemes including installing the largest photovoltaic array in the city centre on our roof, we are about to install two electric vehicle charging points in our car park and importantly all the staff on-board to champion the work we do.
"Winning a VisitEngland Award for Excellence boosts our status in sustainability not only in Bristol, but further afield too. We've found it's really benefitted the business as a whole, not just financially and environmentally, but as a source to further educate our school groups through our workshops, as well as our visitors with some of our exhibits and our sustainability tours. What's more we're an integral part of Bristol's Big Green Week in June hosting tours and running events, and will hopefully help the city become the European Green Capital."
At-Bristol was one of 19 finalists from the South West in the VisitEngland Awards for Excellence out of a total of 73 – meaning the region boasted more than a quarter of all contenders.
Other South West finalists included Fern Cottage Bed and Breakfast in Pucklechurch – also a nominee from Bristol Hospitality Awards – which was highly commended in the highly commended in the bed & breakfast/guest accommodation of the year category, and Bath's Roman Baths, which won silver award in the large visitor attraction of the Year category.
For more information on At-Bristol's sustainability, go to : http://www.at-bristol.org.uk/sustainability.html