Bristol's newly-opened Engine Shed, which houses the University of Bristol's business incubator SETsquared, has gained recognition in a national awards scheme for its highly-connected location and the entrepreneurial heritage of the building.
The Engine Shed, part of Brunel's original station at Temple Meads, was also praised for the 'oxygen supply' created by the businesses using it.
The building, officially opened a week ago by minister for cities Greg Clark, has been awarded the Business Incubator Design award by industry body UK Business Incubation (UKBI).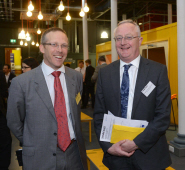 As one of the world's most-connected enterprise hubs, experts predict it will create 5,000 jobs in the technology, creative and low carbon sectors in the next 15 years.
This calendar year, Bristol SETsquared member companies have raised £35m of debt, equity and grant funding, which is more than the last three years put together.
Engine Shed director Nick Sturge, pictured, left, at the launch with University of Bristol Vice-Chancellor Professor Sir Eric Thomas, said: "When we moved the Bristol SETsquared Centre from the university precinct to Engine Shed we took some risks, as our client start-up companies have to do day in, day out. By putting design first – again, as our client companies have to do to succeed – we have created a new home which is significantly greater than that which we had before. Being a part of the Engine Shed 'buzz' only adds to the superb environment we have created. We are honoured to receive this award on behalf of the design team."
The SETsquared Partnership was also the recipient of an UKBI industry award, being named as the Business Incubation Champion.
This completes a memorable year for the partnership which is also celebrating its 10th anniversary.
In July, the University Business Incubator Index listed the SETsquared incubator group as the best in Europe, jointly placed with NDRC LaunchPad in the Republic of Ireland. This ranks SETsquared fourth in the world.
Then in November, the Partnership staged the Accelerating Growth event in Westminster, to celebrate SETsquared's record of incubating more than 1,000 technology companies, which have attracted around £1bn of investment and created a significant number of high value jobs.
SETsquared is operated by the universities of Bath, Bristol, Exeter, Southampton and Surrey and partners enterprise activities and supports the growth and success of new business opportunities through spin-outs, licencing, incubation and education.
The partnership also works with industry through research collaboration and consultancy.
SETsquared partnership director Graham Harrison said: "This is a fitting way to end what has been a fantastic year for SETsquared. Recognition from our industry for the quality and national significance of the fine work taking place across our five sites, day in day out, is a source of genuine pride."