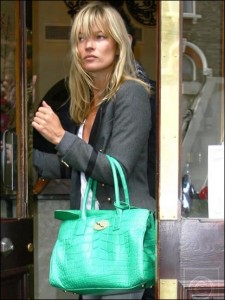 Luxury leather goods firm Mulberry today revealed it is to expand its West factory, creating more than 50 jobs, as it reported a massive 358% increase in annual pre-tax profits.
The manufacturing jobs, which will include apprenticeships for local school leavers, will help the firm meet ever-growing demand for products across the world.
The firm – whose much sought after and pricey bags are often seen on the arms of celebrities, supermodels and fashionistas – earned the £23.3m profit on sales up 69% at £121.6m.
During the year to March 31 Mulberry, based at Chilcompton, Somerset, opened nine new stores mainly in the Middle and Far East as well as a new flagship store in London's New Bond Street. International revenues soared by 145% to £40.5m as it tapped into spiralling demand for its products among the wealthy, brand-conscious buyers in high-growth markets such as China, Korea and Dubai.
Chairman and chief executive Godfrey Davis said that in order to meet such growing demand the company's Somerset factory is being extended with extra capacity coming on stream as early as August. He added: "This will boost UK production capacity by 30% and will generate more than 50 new manufacturing jobs which will include school leavers who will be trained under our apprenticeship scheme."
He added that like-for-like UK retail sales in full price stores and department store concessions are up by 33% for the 10 weeks to June 4 but said growth is becoming less dependent upon consumers in the UK or any other single market.
New Mulberry stores had been opened by the company's partners in Beijing, Hong Kong, Malaysia, Korea, Qatar, UAE and Sydney with further new store openings scheduled for New York, Amsterdam, Germany, Korea, China and Bangkok over the next 10 months
Online sales grew 64% to £9.2 million, accounting for 8% of sales – and with five months selling left of the Autumn/Winter 2011 season, third-party orders are already 38% ahead of Autumn/Winter 2010 total orders
Mr Davis declared: "In our 40th anniversary year, Mulberry continues to focus on the craftsmanship and quality that is synonymous with its brand. These authentic British attributes differentiate the brand and are in tune with the changing times and attitudes."
The firm was launched by Somerset-born entrepreneur Roger Saul with £50 from his mother. He used the money to buy leather and make belts for sale in London's trendy clothes markets. He built up the firm into a respected international brand and set up production centres in his home county. However, he was ousted in a boardroom coup nine years ago.