Bristol-based café-bar chain Loungers expects to open a further 10 sites over the next six months as it continues to bounce back strongly from the impact of the pandemic.
The group has already opened 13 new venues this year, defying the gloom in some parts of the leisure sector and taking its total to 150 Lounge café-bars and 31 Cosy Club restaurants.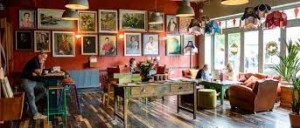 In a trading update for the 24 weeks to October 3, it said it had maintained its "significant outperformance of the market" since indoor trading resumed on May 17.
In a 20-week period to October 3 like-for-like sales soared by 26.6% against the period of May 20 to October 6 2019.
While the sales uplift benefited from the VAT reduction, the group said the continued strength of performance was testimony to the relevance and resilience of its brands.
Net debt at October 3 was £11.9m, excluding a further £5.6m of outstanding rent and deferred liabilities payable to HMRC.
In July Loungers said staycations and home working had helped it since its venues across England and Wales were predominantly based on the neighbourhood café-bar template it developed on Bristol's busy suburban streets and which attracted a wide variety of customers throughout the day and into the evening.
It has repeated this approach, honed in Bristol suburbs such as Fishponds, Westbury-on-Trym and on Gloucester Road – where it found a ready market for its 'home-from-home', laid-back Lounge venues – in towns and cities across the country. Its Cosy Club outlets were later added as city centre venues
Prior to the pandemic, the group was opening new sites at the rate of 25 a year. Loungers CEO Nick Collins said: "Our like-for-like sales have been consistently strong since re-opening, across all site age cohorts and both brands.
"In addition, I am particularly pleased with the strength of performance in the new sites we have opened in this financial year.
"Loungers continues to thrive as we put Covid behind us and manage the current challenges facing our sector.
"This success reinforces our roll-out strategy and we look ahead with confidence, with our pipeline of future sites as strong as it ever has been."
He added a special thank-you to the group's teams for their "fantastic performance over what was a demanding summer trading environment".