From Bristol 24-7 www.bristol247.com
A prototype vehicle designed to explore the surface of Mars will make a starring appearance in Bristol this weekend at one of the largest space conferences held in the UK.
'Bridget', pictured below in an artist's impression, is due to play a pivotal part in an expedition to explore the red planet in 2018, and has been designed to be far more autonomous than previous Mars rovers.
A team of engineers will be on hand from tomorrow to explain the design and build process, and show how Bridget is able to move faster and select her own route to the next point of interest.
About 200 delegates are gathering at the sold-out National Student Space Conference 2013 at Bristol University to hear about the latest thinking and technology in the field of space exploration.
Among the speakers is rocket engineer Alan Bond from Reaction Engines who will give an update on the Skylon space plane – which could potentially be the first plane to take-off from a normal runway and carry its passengers into space.
The Bristol branch of the UK Students for the Exploration and Development of Space (UKSEDS) and Bristol CHAOS, the University of Bristol Physics Society, are hosting the event in the HH Wills Physics Laboratory.
Physics student Alex Dawn, 20, and Bristol CHAOS president said: "It's going to be a busy and fascinating few days and we're really excited to be hosting the conference.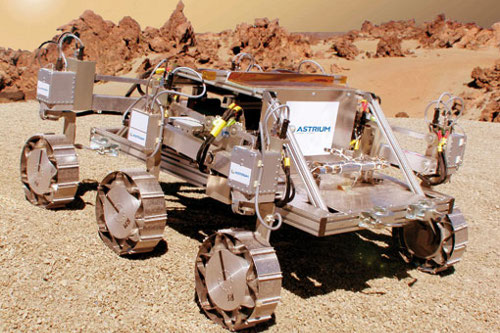 "The real highlight of the conference is going to be the talk given by Alan Bond. Everyone's keen to find out the latest advances with Skylon, especially with all the media excitement around the possibility of transporting passengers into space for the first time."
For further information about the UKSEDS National Student Space Conference 2013, see: http://ukseds.org/conference2013/