Plasterboard manufacturer and supplier Siniat has opened a £250,000 state-of-the-art laboratory at its flagship Portbury manufacturing plant.
The lab – the latest step in a long-term vision to improving the site, formerly owned by Lafarge Plasterboard – provides a modern, high-spec environment for Siniat's production, maintenance and quality assurance teams which were previously based on different parts of the site.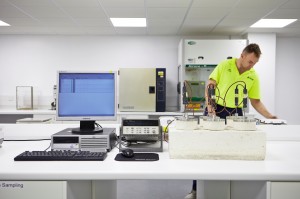 The facility will also act as a demonstration area for customers and other visitors to see Siniat's latest innovations and key product performance capabilities such as fire and water resistance. Construction work began last May. The Portbury plant is Siniat's largest.
Plant manager Stephane Mettavant said: "We've embarked on an ambitious programme of change for our Bristol plant since becoming Siniat. It's focused on improving facilities for our customers and our employees and creating an environment in which we can share our expertise.
"The programme has already delivered tangible results and helped us to streamline our processes throughout the plant," he says. "We have been successful in reducing the number of customer complaints we receive to industry-leading levels, and the new lab represents the next stage of reinforcing that quality assurance.
"It conveys the values that we share at Siniat: it is open, modern, professional and innovative – and literally places quality at the heart of our operation,"
Lafarge Plasterboard was acquired by the Etex group at the end of 2011 and began trading as Siniat in October 2012.
It supplies plasterboard products to customers ranging from jobbing builders and merchants to major commercial developers.