Bristol branding agency Mr B & Friends has been appointed as the primary brand and marketing agency for kitchen towel and toilet tissue firm Regina UK as it seeks to grow its share of the UK market.
Regina's core brands include Blitz household towels, Seriously Soft and Seriously Strong toilet tissue and XXL kitchen roll.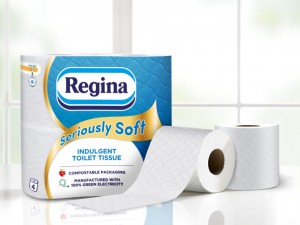 The firm is a subsidiary of the Italian Sofidel Group, one of the leading global manufacturers of tissue paper for hygienic and domestic use.
Mr B & Friends previously worked with Regina UK on a standalone project for pet cleaning towels before being invited to pitch for the primary range at the end of last year.
The agency will lead on the brand, creative and campaigns for Regina UK, providing expertise in strategy, communications and campaign planning, as well as developing creative and digital campaigns and delivery.
Mr B & Friends CEO Simon Barbato said: "We're delighted to be chosen as Regina's lead brand agency in the UK. The appointment marks a strong start to the year for us and we're pleased to add Regina to our growing portfolio of FMCG [fast-moving consumer goods] clients."
Sofidel UK marketing and sales director Graeme Bralsford added: "Having previously worked with the Mr B & Friends team, we felt they understood our brand and values.
"We love their clarity of thinking and creative excellence. We're excited to see what we'll achieve together."
Mr B & Friends has won a series of new local and national clients since moving to Bristol from Bath in 2017.
Among its high-profile work has been the redesign of Bristol City FC's crest, the rebranding of Bristol Rugby as Bristol Bears and new brand identity and website for fast-growing regional broadband provider TrueSpeed.
Mr B & Friends executive creative director Steve Richardson said the agency loved FMCG work.
"Sofidel have some much-loved household brands and to renew acquaintances with the client team has provided brilliant chemistry and spark to our work. Looking forward to 2021 and beyond," he added.
The agency has started work on the account with virtual introductions to the Regina team and agency partners as well as developing campaigns for the coming year.