Sir David McMurtry, founder of West-based advanced engineering group Renishaw, and Bristol-based outsourcing group MITIE were among the winners at last night's prestigious 2013 National Business Award.
Sir David collected the Daily Telegraph Award for a Decade of Business Excellence while MITIE's pioneering achievements in promoting diversity were recognised by the Leadership Diversity Award.
Sir David's award acknowledges his sustained achievements within the business community during a distinguished career.
Previous winners read like a who's who of UK industry and include former WH Smith chief executive Kate Swann, Tesco boss Terry Leahy, Lord Wolfson of Next and BT CEO Ben Verwaayan.
Sir David, pictured, l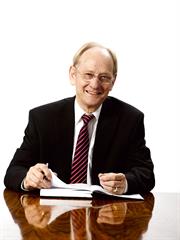 aunched Wotton-under-Edge based Renishaw in the early 1970s after working on the Concorde project for Rolls-Royce in Bristol. The firm has become a byword for innovation and its advanced measuring equipment is used in factories across the globe.
Sir David began his career as an apprentice at Bristol Aero Engines. The company was later bought by Rolls-Royce, where his breakthrough came when he created the first ever touch-trigger probe – which led to him starting Renishaw with co-founder John Deer.
Now at the age of 73 Sir David has been at the helm of Renishaw for 40 years. The the FTSE 250 company now employs 3,300 people across the world.
Sir David was presented with the award last night at London's Grosvenor House Hotel in front of 1,200 business leaders, entrepreneurs, politicians and media representatives, along with winners of another 16 categories in the National Business Awards, which are now in their 12th year.
Head of business at Telegraph Media Group Tim Jotischky said: "Sir David McMurtry is a very worthy winner of The Daily Telegraph Decade of Excellence Award. He exemplifies all that is best about British engineering and innovation and during 40 years at the helm of Renishaw has also proved himself a very astute businessman.
"He is a self-effacing figure, who does not seek the limelight, so Renishaw's remarkable story has seldom been told. We are delighted that the award will bring wider recognition to an outstanding British business and, in particular, Sir David's role in training a new generation of engineers."
The award recognises bosses who have "honed their leadership styles as they lived and breathed their respective businesses and industries, they have demonstrated the value of growing with an organisation and becoming an industry leader".
These strategic thinkers combine a big picture perspective with in-depth knowledge of market forces; gaining intimate insights into the capabilities of their people and instilling them with the ambition and confidence to achieve great things. These are the leaders that have consistently delivered exceptional performance year after year.
Fast-growing MITIE's triumph in the Leadership Diversity category was recognised for the exemplary steps it has taken to create a culture which promotes and enables greater diversity at the executive level, and for demonstrating the positive impact this has on commercial performance and operational excellence.
The group also fosters and promotes the importance of diversity not just within MITIE, but with its suppliers, clients and among the wider community.
Key achievements for MITIE in the diversity arena include:
• Appointing the first female Asian CEO (Ruby McGregor-Smith CBE) in the FTSE 250 or 100
• One of only three companies in the FTSE 250 where two of the top three roles (CEO, finance director and chairman) are held by women
• Establishing an externally-chaired diversity and inclusion steering group formed of senior operational leaders who are accountable for its agenda and outcomes
• Built a network of 'diversity champions' who are responsible for delivering business-specific diversity initiatives within every level of the organisation
Speaking after collecting the award, Ms McGregor-Smith said: "We were absolutely delighted to win the award. Being part of a company that celebrates diversity in the broadest sense is something that we are truly passionate about at MITIE.
"Having a talented and diverse workforce is critical to both our past and future success as a business. It's fantastic that our approach to diversity has been publicly recognised in this way, and we intend to continue leading the way in leadership diversity excellence."