Bristol city centre could get another major new office scheme under plans announced this week to create an 11-storey building on a key waterfront site.
The developers want to demolish One Passage Street, a 33,000sq ft, 1970s red-brick building that was once the head office and studios of commercial radio group GWR, and replace it with one more three times the size, pictured.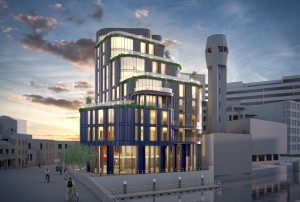 The building's current occupier, music college BIMM, is relocating across the city centre to purpose-built facilities at St James House, near The Bear Pit.
As well as office space for around 1,000 people, the 110,000 sq ft new building, next to St Philip's Bridge and the Shot Tower, would also include a ground floor bar/restaurant with a terrace overlooking the Floating Harbour.
The new building would start at four storeys – a similar height to the existing office block – then increase through a series of tiers as it moves further back.
At its tallest it would be 11 storeys – below the 14-storey section of the nearby Assembly scheme now under development on Temple Way.
The developers say the area around Passage Street has undergone significant changes in recent years, including the award-winning Finzels Reach development on the former Courage Brewery site, Castle Park View, the 26-storey, 375-apartment tower that will be Bristol's tallest residential building once it is completed, and a number of schemes on Temple Way.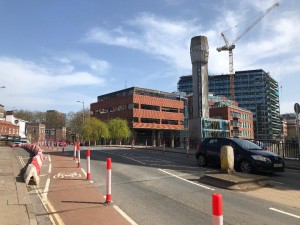 These have helped create a vibrant, mixed community – and the existing One Passage Street buillding, pictured, "clearly now lags behind this positive change".
The new building has been designed by award-winning Bristol architecture firm AWW, which has designed a number of high-profile buildings in the city, including Finzels Reach and The Distillery on Temple Way as well as the successful refurbishment of Narrow Quay House for law firm VWV.
AWW said it had sought to create a distinct and aspirational landmark building, with softening curved edges, each storey 'twisting' to create visual interest and stepping back to allow views of the Shot Tower to be protected.
The tiering also makes room for a number of large terrace areas, providing views for people working in the building.
The design and materials have been chosen to complement and reflect the existing local character, said AWW.
An atrium with flexible space is also proposed and could be used in a theatre-style format for lectures or for public hire.
The investment is being managed by Knight Frank Investment Management on behalf of Local Pensions Partnership Investments (LPPI).
They said they were aiming for the highest rating for sustainable buildings, BREEAM Outstanding, so far achieved on just a handful of buildings in Bristol, including Halo currently under construction at Finzels Reach.
This would require heating, cooling and energy usage to be significantly lower than required by building regulations.
The developer is looking at both air source heat pumps – currently the most sustainable option – as well as Bristol city Council's district heat network, which, once complete, would provide 100% renewable energy.