An innovative project to transform Bristol's urban environment by planting meadows for pollinating insects has won the Mayor of Bristol's Genius Award, one of the city's Festival of Ideas Awards.
The Urban Pollinators Project is being staged by scientists from Bristol University in partnership with the City Council's Meadow Bristol scheme, also aims to make the city more attractive for residents and visitors.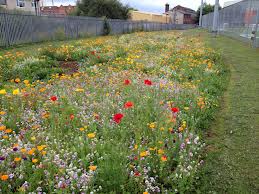 Judges said the project, which beat the Bristol Pound and Ultra Global PRT driverless taxi-pods to claim the prize, best exemplified Bristol as a city that excels in ideas which have the potential to change lives for the better. The award presented by the Mayor of Bristol George Ferguson at a ceremony at St George's last night.
Pollinators such as bees are in serious decline, which could have a serious impact on food production and natural biodiversity.
Research has demonstrated that some urban habitats can support good numbers of pollinators. Flower meadows were planted in Bristol's public parks, along road verges and roundabouts and in several schools in 2011 and 2012, turning them into a haven for pollinating insects as well as providing stunning floral displays.
This year 15 large flower meadows are being sown across the city. Visits to schools in partnership with the Avon Wildlife Trust will educate Bristol's youngest residents about the importance of insect pollinators and a conference hosted by Bristol University next year will share key findings of the research to date.
Project leader professor Jane Memmott said: "It's been a real team effort. This year the Urban Pollinators Project is adding 15 huge urban meadows to the city with the university providing the experimental design and the council providing meadow sites and expertise in planting. Working closely as a team, our aim is to improve the lives of urban pollinators who get to feed on the meadows and urban people who get to enjoy watching them flower."
Teija Ahjokoski, from Bristol City Council's Meadow Bristol project, added: "We were extremely pleased and surprised to win the prize, as all the shortlisted projects were of a very high standard. We'd like to take this opportunity to give thanks to all our existing sponsors and partners who have helped us to get this far. We hope to create more meadows by attracting further sponsorship to this genius award-winning idea!"
Director of Bristol Cultural Development Partnership and the Festival of Ideas Andrew Kelly, said: "In a city as creative as Bristol it's easy to get a huge long list of the best ideas, hard to get a shortlist of three (given the quality of submissions), and even harder to choose a winner. This project stood out for its great vision and passion. It addresses a critical issue of our time and shows what we can all do to make things better. It's a worthy winner and we're delighted to give this award."
The evening began with a presentation of the nine projects shortlisted for the Bristol Temple Quarter Gateway Project. The project encouraged submissions for innovative proposals on how to provide a better welcome to the city, help locals and visitors learn about the area and Bristol, and guide them on their way to destinations.
The winner was Joe Melia for Here, a proposal to commission a collection of short stories distributed free to passengers arriving at Temple Meads and through bookshops, libraries and other cultural and artistic venues. The stories would be based in and around Temple Meads and Bristol city centre, and be available in a paperback anthology, ebook and an audio download with optional soundtracks composed by Bristol musicians and composers.
Joe said: "It is brilliant news that short stories and storytelling and what they can trigger found favour with the judges. The ideas from the other nominated are fantastic and hopefully can all come to fruition at some stage. Massive thanks to all the judges and to the continuing brilliance of the Festival of Ideas.'
The Foyles/Bristol Festival of Ideas Best Book of Ideas 2013 went to Artful by Ali Smith.