West entrepreneurs inspired businesses of all sizes to gain a commercial advantage by becoming green at a meeting staged as part of Bristol's BIG Green Week.
The flagship event, staged by Business West, the business support organisation that runs Bristol Chamber of Commer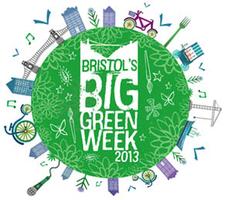 ce and the Bristol Initiative, heard from a number of high-profile speakers who explained how to become the market leader through environmental championing.
Rob Law, founder of the Bristol company behind the Trunki kids' ride-on suitcase, told the Putting Green at the Heart of your Business event that becoming more sensitive to the business's environmental impact could lead to higher profits rather than increased costs.
He explained how he had moved Trunki production back to Britain from China. The results had been not just good for the environment, but had saved money.
Having the factory in Devon meant he could introduce more green measures – for instance using snap-joint technology which reduces the need for metal clips and rubber seals. This made the plastic cases easier to recycle.
Shipping from Devon rather than China was much better for the environment and also meant transportation costs were now a fraction of what they were. Further savings came from shipping direct to wholesalers, so reducing the need for warehousing, while lower lead times had freed up cashflow considerably.
An additional benefit of bringing production back to the UK, he said, was that it had "reduced risks". One fear of working with a factory abroad, he said, was that companies can never be sure if or when the British Government might decide to introduce a duty on imports.
Rob, appointed MBE last year for his services to business, said being a 'responsible' employer referred "not just to the environment, but to people." His company offices near Temple Meads are designed with a sense of fun for staff – there is even a giant slide in the middle.
The inspiring sessions were introduced by the Mayor of Bristol George Ferguson. Headline speaker Jonathon Porritt, founder of Forum for the Future, shared his passion for creating a brighter, sustainable future for everyone.
Other speakers included David Callaghan from Hewlett Packard, Paul Hardman of Gregg Latchams and James Durie, Bristol Chamber & Initiative director.
David Callaghan spoke about how open spaces at HP's North Bristol site had been turned into allotments for staff – a real example of 'putting green at the heart of business'.
He quoted one staff member as saying: "The allotments have made such a difference. Getting out there in a lunch break is food for the soul and I love it!"
Meanwhile Business managing director West Phil Smith said the organisation was leading by example.
"Going green delivers direct business benefits. Initiatives such as using green suppliers, a green travel plan or installing an environmental management system, not only reduces your negative environmental impact, but has an immediate effect on your bottom line," he said.
"There are many businesses in the South West enjoying the benefits of going green but we don't always hear about them. BIG Green Week provides a great platform for companies to shout about their achievements."
Projects introduced by Business West, such as cleaning systems and zone control for heating to enable it to run as efficiently as possible, replacing traditional light bulbs with LED ones, and the installation of electric car charging points, were easy for other businesses to do.
Solar hot water systems with energy efficient tanks and water boilers have reduced Business West's water usage by 38%, helped by the replacement of a dishwasher which uses 50% less water.
Staff initiatives have also been well received, especially around sustainable transport. A cycle scheme gives staff money off new bikes and a car-sharing club was set up to reduce staff mileage resulting in 19% less business mileage claimed.
One car-sharing club member, events manager Amie Vaughan, who shares with two others, said: "I save roughly £15- £20 a week on fuel but collectively, the three of us save £60 a week on fuel and probably more than that on the wear and tear on our cars. Over the year the savings really add up."
To find out about other events during Bristol's BIG Green Week, see www.biggreenweek.com