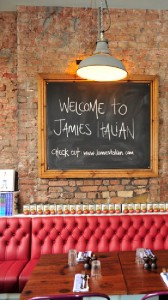 A good restaurant owes as much to its ambiance as it does to it food and Jamie Oliver's Park Street location, known simply as Jamie's Italian, certainly does it for me.
It's been just over six months since it opened in what was the former Blackwells bookshop, and I've checked it out four times on different days and times and each visit has kept me coming back.
As I took my seat on my first visit (a Friday at 6.30pm) tunes from Stereo MC, James Brown and New York's Gym Class Heroes (it's a remix… you'll know it!) had us all rocking in our seats. And, yes, that included me and my 18-year-old daughter!
So, a great location for all ages then. But that's just part of the appeal. It's the perfect place for a post-work early-evening get together with mates too.
Inside, each of the three floors has its own slightly different 'urban chic' theme. Cafe-style pendant lights hang down from a clay brick tiled roof with concrete rafters in the basement (my favourite), while the top floor is a little darker and seems to be a favourite with larger groups in my experience.
At lunchtimes (which I haven't yet tried) it's possible to book a table whatever size group you're with. But in the evening, you can only book if there's more than six of you.
On the plus side, it means you can be spontaneous when going for a night out with a mate, and I certainly haven't had to wait for a table for more than 30 minutes on three of the four times I've dropped in.
However, I almost came unstuck when a friend and I arrived feeling ravenous at 8.15pm on a Wednesday evening, when the restaurant was already full of large parties who, no doubt, had booked.
So, I suspect the booking policy may cause problems for some twosomes hoping to grab a bite on really busy nights. But the restaurant's clever back-up plan is that, even when you have to wait for a table, there's a great bar area where you can sit and order 'nibbles'.
On the one occasion that my friend and I were faced with a one and a half hour wait for a table we decided to stay in the bar and try the delights of the 'nibbles' menu instead.
There, we worked our way through the 'World's best olives on ice' (which actually comes with black olive tapenade and crispy bread) at £3.75, sweet mini chilli peppers (£4.45) and marinated sardines (£3.75) before finally discovering the Italian nachos. They were to die for. Unlike any others you've ever had and oh, so much better!
In truth, they're not strictly what you'd expect from nachos – just Jamie's delicious Italian version. Crispy-fried four-cheese ravioli parcels with a smattering of grated parmesan on top and an 'angry' arrabbiata sauce on the side – and all for £3.55.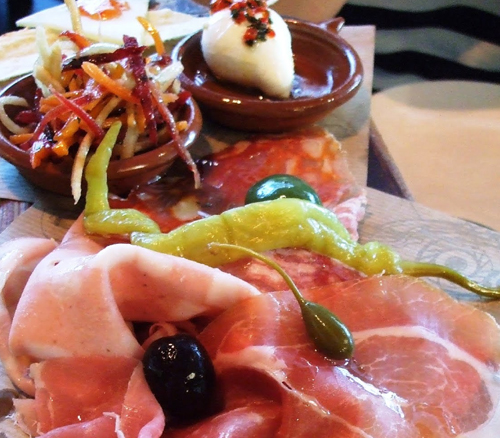 Try a delicious meat 'plank' for starters at £6.85 a head
And, what about the rest of the food? Well, the vegetarian 'plank' for starters at £6.85 a head gets my vote – and, no I'm not vegetarian! Presented beautifully and including a bowl of aubergine caponata, green chillies (which my son dared me to eat! -a challenge I was happy to take up!) and caper berries. An absolute delight!
Also delicious is the Italian bread selection – a bucket of different breads baked twice daily ranging from focaccia with extra-virgin olive oil and the finest aged balsamic through to crispy 'music bread' (that's what the menu says!) with rosemary and lemon gremolata. A bargain at £3.75.
Over four visits, and trying friend's dishes, I reckon I've sampled half the menu and, for quality and price the Burger Italiano main course at £11.25 is hard to beat. If you're hungry, a portion of chunky Posh chips – with 'insanely' good truffle oil and parmesan at £3.25 shouldn't be missed.
Top choice for dessert? It's hard to beat The Ultimate Brownie – a chocolate, raspberry and amaretto delight with vanilla ice cream, and all for £4.95.
Want to find out more? Pictures, menu and prices are all on the Bristol website www.jamieoliver.com/italian/bristol
TOP TIPS
Jamie's Italian is the perfect post-work venue, arrive at 6.30pm, even on Friday and you might even be lucky and get a table straight away.
As in most restaurants, adding side dishes can really take up the cost of the bil. But the 'posh chips' – with a sprinkling of truffle oil and Parmesan are worth investing in at £3.25.
One final top tip for Jamie – the music is brilliant but improving the quality of your sound system in the restaurant would make things even better. Tunes hit the spot… but you can't always hear them…