Waste management firm Grundon's commitment to addressing its environmental impact has recognised by a new accreditation for energy management at its Bristol site.
The ISO 50001 certification, which was awarded following a detailed audit by national standards body BSI, also demonstrates the firm's commitment conserving resources and improving the bottom line through efficient energy management.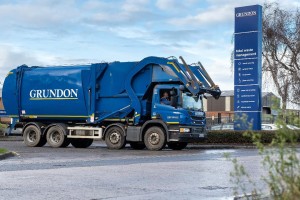 BSI's audit made sure that Grundon could prove it has the right energy data collection processes in place, involving seamless communication between the site in St Philip's and its head office.
The audit also assessed the firm's ability to efficiently implement any necessary actions for improved energy efficiency.
Grundon environment and energy technician Jonathan Wrighton, who was heavily involved in the application process for this new certification, has high hopes for the promotion of clean energy in Bristol.
He said: "Our Bristol depot operations are committed to reducing diesel fuel consumption – the largest share of energy – via its adoption of route optimisation software, alongside the addition of an electric waste collection vehicle.
"This internationally recognised accreditation recognises the extra efforts that we, as a company, have put into safeguarding our environment and preserving precious resources, whilst still delivering maximum value for our customers.
"Grundon has an excellent energy management system in place that invests in improving our on-site activities to minimise our energy consumption, including electricity and gas expenditures, and diesel fuel usage from the depot."
He said Grundon believed in investing in the future and its energy management system had been carefully designed to make its impact on the environment a positive one, consistently and efficiently.
"We also believe that our own internal audit process and regular data monitoring are second to none, reinforcing our requirement to constantly improve year-on-year," he added.
Grundon Waste Management chairman Neil Grundon said the company was thrilled at the hard work, dedication and commitment from its Bristol employees and the wider team to earn this important certification.
"We are always striving to reduce our energy consumption and we're proud to celebrate this achievement as part of our journey towards sustainability," he added.
Founded in 1929, Grundon became the first of the major waste industry players to adopt CarbonNeutral certification across its vehicle fleet in 2014, offsetting its carbon emissions by supporting a wide range of rural community projects across East Africa and beyond.
Since 2000, it has reduced its carbon emissions by 78.68% through a series of measures, including an ongoing energy self-sufficiency programme and investment in state-of-the-art technologies.
The firm works with customers across the South of England to provide a total waste management service for the reduction, reuse, recycling, recovering and disposal of waste.