Bus operator First Bristol has joined forces with city-based tech firm Esoterix Systems to make the morning commute more convenient and sustainable in the first trial of its kind in the UK.
The project is taking people by taxi from a pick-up point near their home to a bus stop where they can hop on a bus and get to work without having to worry about parking.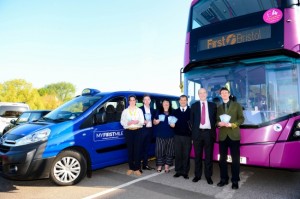 The trial started this week in Henleaze and Westbury Park, with those taking part walking no more than 250 yards from their doorstep to one of 25 pick-up points dotted around the area.
A Hackney-style shared cab will then transport them to the Nevil Road or Ashley Down Road bus stops on Gloucester Road, from where high-frequency buses provide direct transport to the city centre or UWE, Filton Abbey Wood and businesses on the northern fringe.
Those running the trial say the evening return journey is even more convenient, with passengers getting off the bus near the Co-op supermarket from where one of the MYFIRSTMILE-branded vehicles will take them home, using the most optimal route to drop off multiple passengers.
Henleaze and Westbury Park was selected as trial area after rigorous analysis by transport technology specialist Esoterix Systems of anonymised mobile phone data showed that of more than 900 smartphone users commuting to UWE and other Northern Bristol businesses, half of them did so by car, despite the availability of direct First Bristol bus services from Gloucester Road.
Esoterix Systems chief marketing officer Liz Davidson said: "The analysis and behind this service involves the cutting-edge application of new technologies and data sources, including service simulations and anonymised mobile network data to understand where there is sufficient potential demand for services.
"We're doing more than connecting transport services. By using the local Co-op supermarket as a hub, passengers can easily pop in for some groceries on the way home. And because they are dropped at home, they don't have to carry them far."
First West of England managing director James Freeman added: "This is a great and innovative way of helping commuters who live too far from a bus stop to use the bus. By bringing a service closer to their homes, their daily commute is easier. Plus, there's no need to waste time looking for a place to park or pay for parking.
"Technology and new data sources represent a tremendous opportunity for improving transport. The time is right for bus companies to work with innovators to improve existing services and design new ones, attracting new customers. MYFIRSTMILE is just one of the ways we're exploring innovative ways to allow people go about their lives using smarter ways to travel by bus".
Before this week's public launch of the trial, a closed pilot took place with selected participants to test the service and the app in preparation. One of those trialling the service said: "I've never felt more in control of my morning commute."
An integrated smartphone app covers journey planning and secure payment for both MYFIRSTMILE cab plus bus journeys across First's Bristol Inner Zone network. The service, which is open to anyone who lives in the trial area and uses the MYFIRSTMILE app, operates between 6am and 10:30am and 3pm and 8pm on weekdays, excluding bank holidays. It is
Daily travel costs just £6 all-inclusive but can be as low as £4.45 per day with a monthly pass and access to the First Bristol Inner Zone network is included.
While MYFIRSTMILE doesn't operate on weekends or bank holidays, MYFIRSTMILE week and month passes do allow travel on First bus services operating in the First Bristol Inner Zone network on those days. As part of the launch offer, users downloading the MYFIRSTMILE app from the Apple App Store or Google Play can travel the first day for free.
MYFIRSTMILE is the result of a collaboration between Esoterix Systems, which is based at UWE's Future Space tech and science innovation hub, First Bus, Bristol City Council, UWE and the Transport Systems Catapult.
The consortium submitted a proposal to Innovate UK, the UK Government's innovation agency, to develop and implement new transport services. The Co-Op is supporting the trial by making three parking bays available. 
The trial will run until the end of September. If successful, MYFIRSTMILE may be rolled out to other areas of the city and the country as an effective way to improve public transport options and encourage people to use the bus. 
Esoterix was set up in 2012 by mathematician Dr David Stewart, a specialist in network optimisation, who was frustrated by what he saw as the inefficiency in bus services. It is involved in a number of other innovative transport trials in and around Bristol.