Bristol's Park Street is to be a test bed for a pioneering digital marketing project that aims to boost business for its stores by harnessing the power of social media.
The trailblazing initiative – only the second of its kind in the UK – will enable the iconic street's shops, bars, restaurants and tearooms to market themselves direct to potential customers with up-to-the-minute content via Facebook, LinkedIn, Twitter and other social media platforms.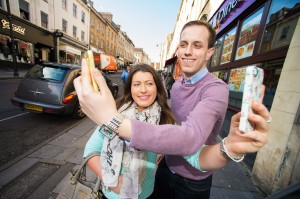 The campaign, called SOCIALiSTREET, has been developed by Exeter-based creative marketing firm Destination CMS and is being introduced to Park Street in conjunction with property agents Colliers International's Bristol office.
It is an extension of Destination CMS' successful Mall-to-Mobile service, which is used by shopping centre owners, developers and managing agents across the UK to promote offers to shoppers via their mobiles.
Pictured: Gemma Daly and Dan Johnstone from Colliers, who will be managing the SOCIALiSTREET campaign
SOCIALiSTREET involves a team of 'brand makers' who visit retailers to collect promotional information such as new products or special offers. This is then repackaged by a team of PR managers and disseminated through digital and social media channels.
For an infographic on how it works click here
Destination CMS launched a similar project in Perth in Scotland last year which is says has already resulted in significant increase in footfall.
The Park Street project will be launched ahead of a roll-out across other high streets around the country.
DCMS consultant Simon Baldwin said: "Our SOCIALiSTREET campaign aims to reinvigorate shopping communities by driving up footfall using digital and social media channels.
"Park Street has a strong independent streak and has been on trend since trends were invented.
"It's an eclectic collection of clothes boutiques, music and record stores, bars and restaurants, furniture and art galleries and we are confident Park Street will generate an endless stream of news, offers and gossip to keep people glued in to what is going on."
Colliers retail specialist Dan Johnstone said Park Street had been chosen as a recognised shopping destination with a strong community and a large number of independent retailers. It also acts as a link between the Centre and Clifton and so has strong footfall.
"Park Street is often described as the UK's hippest street – and boasts a reputation for high end independent shops alongside a number of big name food and beverage operators including Nando's and Jamie's Italian," he said.
"These outlets have clear appeal for the younger generations who rely on social media to source just about everything from the latest designer jeans to a coffee on the way home from work.
"This campaign is aimed squarely at putting Park Street's traders on their phones and in their faces through a combination of news, events and promotions with the focus very much on fun."