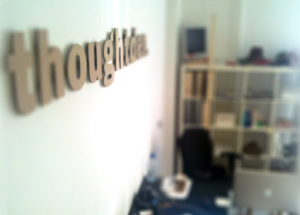 An online game that takes contemporary art out of the gallery and into the world of interactive gaming has been produced by Thought Den, an increasingly successful Bristol creative digital agency.
The agency, whose work includes a game called Fire Kills for the Central Office of Information and another titled Swamp Drifter for bourbon makers Southern Comfort, was invited by the Tate Gallery to pitch for the business against major London agencies. It won the contest and was commissioned by the Tate and National Galleries of Scotland to create ARTIST ROOMS: The Game, which is targeted at their growing youth audience.
The game offers an insight into exhibition-making in real life as players overcome the challenges of choosing artworks, employing staff, selecting lighting and marketing their show. The works featured in the game are drawn from ARTIST ROOMS, the collection of modern and contemporary art established through the extraordinary gift to the nation made by Anthony d'Offay in 2008.
By the end of 2012 the tour will have shown in 44 museums and galleries nationwide and comes to Bristol Museum and Art Gallery from the June 30 to September 23 next year. Part of the online game's unique appeal is that players can create their own 3D exhibition with world-famous artworks by the likes of Damien Hirst, Andy Warhol and Gilbert & George.
A player's score can be shared across social media networks, offering up a challenge to friends to create a more successful exhibition. "It's an everyday, playful way of engaging with an audience outside of the more formal environment of a gallery," said Thought Den creative director Ben Templeton. "It was incredibly flattering to be approached directly by the Tate for what was obviously an important project for them. We pulled out all the stops. The team here has developed a philosophy of 'playful learning' which combines the sparkle of new technology with a thoughtful, well-informed core understanding of the learning content our clients want to convey."
The agency has also been asked to create a flagship app launch for Tate – and this is currently under review in Apple's app store. Magic Tate Ball is a mobile toy for all ages, based on the iconic and hugely popular Magic 8 Ball game. Thought Den was founded five years ago by Ben, 28, and technical director Dan Course, 28.
The agency, which has six full-time staff, also includes among its clients Jack Daniels, JVC and the BBC. Last year it listed as 'The One To Watch' by Bristol Media, the city's creative digital association.
Tate project leader Hannah Flynn said: "Thought Den popped up on our radar because their work has a unique sense of character and they have obviously delivered for other big clients. Their enthusiasm won them the pitch and their creative solutions to tough problems kept things moving throughout production – not to mention their positivity and sense of humour." ARTIST ROOMS: The Game was released at the beginning of the month and is available from http://bit.ly/artistroomsgame