Bristol's burgeoning reputation as a major centre for the creative and digital industries has been enhanced with the opening of a state-of-the-art £7m business campus.
Temple Studios, next to Temple Meads station and part of the city's developing Temple Quarter Enterprise Zone, is already home to clutch of young businesses.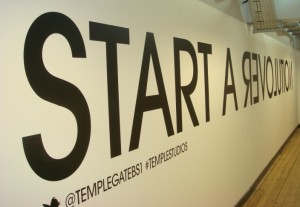 London-based developer TCN UK wants to turn the building into a hub for design, hi-tech and innovative companies, including start-ups, who want to network and spark ideas off each other in a non-traditional business environment.
Right: The writing's on the wall at Temple Studios
The building was officially opened yesterday afternoon by Mayor of Bristol George Ferguson who met some of the tenant companies and said: "It's got the feel of a creative hub – we now have a 'media mile' starting down the road at Paintworks and ending here."
Mayor Ferguson recently opened The Set, a similar space aimed at creative and media firms at Bath Road Studios, already home to ITV West and a number of small TV and video production businesses. Paintworks is also the base for TV production and is the studio for Endemol's Deal or No Deal show.
Temple Studios comes with some quirky touches – including signs such as BOARDROOMS ARE FOR SUITS in the informal meeting rooms.
TCN redeveloped Bristol and Exeter House next door in 2010 and has since spent 18 months turning Temple Studios into a creative space.
Managing director Richard Pearce said: "Back in 2008 we analysed the markets and realised Bristol has an innovative and creative demographic similar to Amsterdam, Utrecht and parts of London.
"Temple Studios targets creative and digital companies, offering a unique office environment with a raw, industrial design and desirable extras, such as a large breakout area for like-minded businesses to connect and interact."
The entrance to the studios on the ground floor sets the scene for the whole building, with the reception housed in a shipping container. Throughout the building are exposed surfaces, stripped floors and walls, retro toilets and quirky signage. 'The Space' is a large breakout area for companies and individuals to meet and collaborate, share a coffee and a game of table tennis.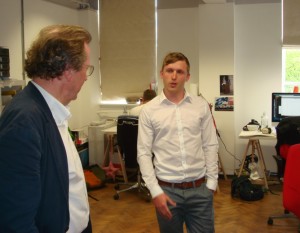 Plans for the final phase of the site include a £13m office development to be called One Bristol and targeted at the TMT sector, along with a 120-bed hotel and retail.
Left: Mayor Ferguson meets Piers Ticknell from Atomic Smash
Mr Pearce said, "One Bristol is designed for the media and digital generation with an industrial feel, exposed services, high ceilings and great natural light. Quoting rents will be 20% below the more traditional competition and occupiers have flexibility on fit out options starting from shell and core."
Mayor Ferguson added: "In the last few years, Bristol has seen rapid growth in the areas of creative and digital business and can now consider itself as a leader in the UK's creative economy. TCN UK were quick to recognise this and their development right in the heart of Bristol Temple Quarter Enterprise Zone fits perfectly with the kind of businesses we're trying to attract there. We are delighted they have chosen to invest here. They've created a very desirable and different workspace and already attracted a whole host of dynamic organisations in there.
"There's a real buzz and energy here now, which is only going to serve to attract even more businesses. Bristol already has the most successful economy of any city outside of London and the success of the Enterprise Zone is key to the ongoing prosperity of the whole of the city and region."
Among businesses that have already moved in is integrated marketing, communications and advertising company Saint Nicks, whose Felicity Kelly said the location next to Temple Meads station was a real plus. "Lots of our clients are in London – or at Parkway," she said.
Other businesses in Temple Studios include design agency Hype & Slippers, dBS Music School – part of the City of Bristol College – and Atomic Smash, a young digital agency and partnership between two friends working on a major redesign of Knowle West Media Centre's website.