The developer aiming to transform Bristol's landmark former Gardiner Haskins department store has scrapped plans for an aparthotel on  the site in favour of increasing the number of homes by nearly 50%.
The decision by First Base follows rejection of the scheme by the city council's Development Control Committee last month.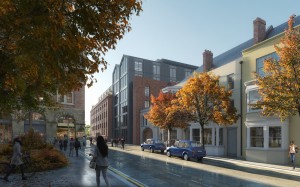 The London-based mixed-use property developer, which bought the iconic site in 2019, had planned to include the hotel along with homes, workspace and bars and cafes in its scheme, which includes two new buildings and a sensitive restoration of the Grade II-listed Soapworks building.
It said this approach was to ensure that work could start on site as soon as possible, regardless of market changes following the coronavirus pandemic.
First Base said having listened to councillors' comments and their clear preference for more homes,  it had withdrawn plans for an apart-hotel, in favour of additional housing, increasing the number by 77 to a total of 243, with 48 of them affordable.
It said the revised plans would still include the flexible workspace and social spaces and would continue create up to 2,000 jobs.
First Base project director Lucinda Mitchell said: "We have withdrawn our proposals for a hotel, in response to requests by planning committee members, in favour of providing the additional housing and the extra affordable homes desired.
"Supporting Bristol's inclusive and sustainable recovery, we look forward to bringing the Soapworks back to life, re-opening its doors to the public to once again enjoy this beautiful Bristol building, which will provide a new purpose-built food hall, local independent cafes and shops alongside new flexible workspaces, homes and outdoor public space."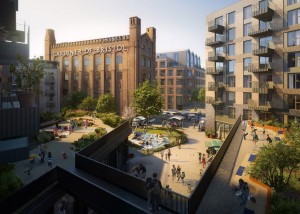 First Base said The Soapworks would also deliver over £200m in long-term community benefits over the next 20 years, including:
Collaboration with 1625 Independent People on strategies to prevent youth homelessness
Supporting Off The Record to improve local mental health and wellbeing; and
Partnering with Cognitive Paths and the Black South West Network to support local BAME businesses and voluntary organisations in the area.
First Base is also supporting the Black and Green Ambassador Programme, in partnership with the council, Bristol Green Capital Partnership and Ujima Radio, which seeks to foster the city's aspirations for an inclusive and sustainable post-covid recovery.
The car-free scheme Soapworks will also include new pedestrian and cycle links, providing improved connections to Bristol Temple Meads railway station and surrounding neighbourhoods as well as new trees and shrubs.
First Base submitted its plans for the Soapworks site to the city council last year. The building, which dates back to the 1860s, was originally used by soap and candle manufacturers Christopher Thomas & Brothers before being occupied by local furniture company Gardiner Haskins.
The retailer, which was founded in Bristol in 1825, continues to trade from the nearby iconic Brunel Rooms building on Broad Plain.