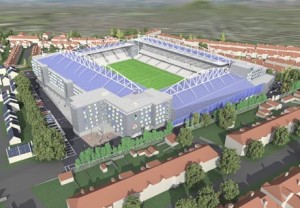 From Bristol 24-7 www.bristol247.com
Bristol Rovers chairman Nick Higgs has described the signing of legal agreements to build its new stadium as an "historic day" for the club.
Having secured funding for the stadium, at the University of the West England's (UWE) Frenchay site, consultation on the redevelopment of the Memorial Stadium by Sainsbury's could now get underway in the New Year, he said.
Rovers and UWE announced their plans to build the new stadium in June in move partly funded by Sainsbury's proposal at the Memorial Stadium in Horfield.
The new 20,000-seat stadium on UWE's Frenchay campus will, according to the club, allow it to "build for a sustainable future". Bristol Rugby Club, which shares the Memorial Stadium, will be invited to do the same at the new stadium.
Plans for the stadium include a supporters' club bar, an extensive club shop, banqueting and hospitality suite, convenience store, gym, jogging track and teaching space for the university.
Meanwhile, plans for the supermarket at the Memorial Stadium reveal it will have a number of elements designed to ease residents' worries over its size, height, access and opening hours.
The plans also show the store will be 'wrapped' on two sides by new homes to create a buffer between the store and existing homes and it will not include a petrol station.
Mr Higgs said this morning: "I am pleased to announce that I have now signed and exchanged the remaining legal agreements with UWE and Sainsbury's required to progress the new UWE Stadium project.
"This is a historic day for the club as it now concludes the negotiations between the three parties and clears the way for the project to progress to the next stage.
"As a result of these negotiations, all funding is secured. Planning applications and consultations can now continue for the new site within the UWE campus and the existing Memorial Stadium."